Valentino Upholstered Bed Frame 4ft Small Double - Linen - Lime
Free UK Delivery in 5-10 Working Days
Dimensions In cm:
Size

Height 

(C)

Width 

(A)

Length 

(B)

 Footboard
  Height (D)

Single
158
97
214
31
Small Double
158
128
214
31
Double
158
144
214
31
King
158
159
222
31
Super King
158
189
222
31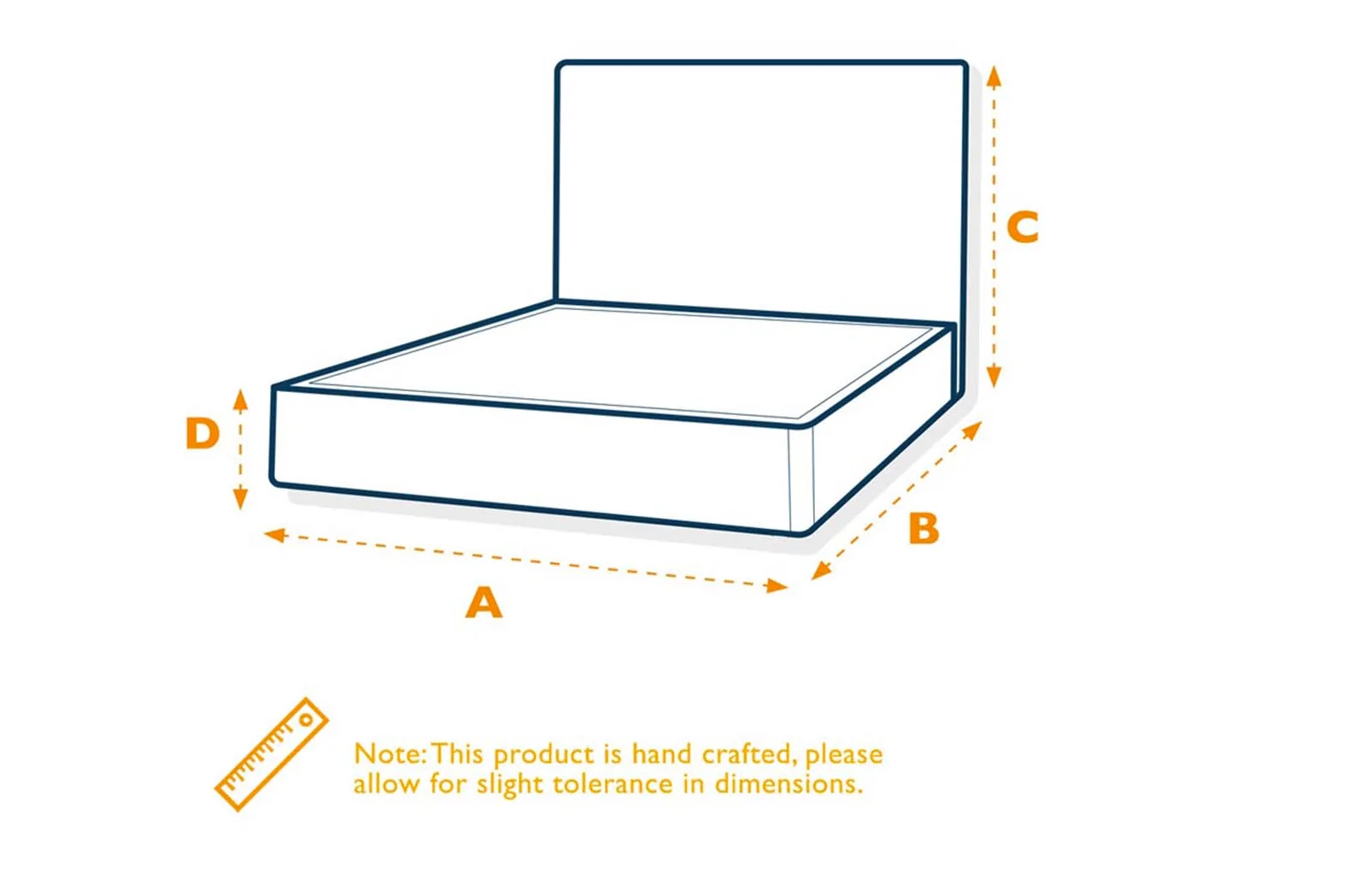 100% secure payments
Valentino Upholstered Bed Frame
The Valentino bed frame has class and elegance befitting its silver plush velvet fabric. The art deco style and functional nature makes this a perfect frame.
The Valentino upholstered bed frame has a silver plush velvet fabric finish that brings your dreams to reality. The art deco nature of the headrest grabs attention, but it's the feel of the luxurious material that people love.
If you are looking for a tall headrest, the 158cm height is a perfect length for most rooms. You also have a strong base, with feet in various styles. A plush velvet option complements the headrest, but you can also choose between a crushed velvet look, chenille, Linen, or even Naples velvet.
You also have foot ends for the bed frame, which stand 31cm tall. The Valentino bed frame is soft and welcoming, but it also has an imposing nature. If you are looking for a bed frame that is robust and welcoming, this is one of the most charming frames in the UK.
We know owners adore the Chesterfield design of the headrest, a striking feature that is sure to make this bed frame stand out from the crowd. With a hand upholstered finish, you can rest assured this is a bedroom feature of the highest quality and standard.
The light colour of the headrest and frame works well with a range of colours. No matter the overall appearance of your bedroom, we think this will work perfectly. The Valentino bed frame is a handmade speciality, and you can tailor it to meet your needs perfectly. When it comes to a bespoke look in your bedroom, you cannot go wrong.
You can also create the perfect look with the size of the Valentino bed frame. There is a 4'0 small double, a 4'6 double or even a 5'0 king-size bed frame. Whether you are styling a kid's room, a spare bedroom or the home's main bedroom, there will be a bed frame that is ideal for you.
You want a style tailored to you, which is why a handmade and bespoke bed frame is perfect. If you love the art deco style, you will fall in love with the silver plush velvet fabric appearance of the Valentino bed frame.
* Bed frame only. Other fabrics and colours are available please call or email for more information.
Dimensions In cm:
Size

Height 

(C)

Width 

(A)

Length 

(B)

 Footboard
  Height (D)

Single
158
97
214
31
Small Double
158
128
214
31
Double
158
144
214
31
King
158
159
222
31
Super King
158
189
222
31