Hoiden Upholstered Bed Frame 4ft Small Double - Malia Plush Velvet - Beige
Free UK Delivery in 5-10 Working Days
Dimensions In cm:
Size

Height 

(C)

Width 

(A)

Length 

(B)

 Footboard
  Height (D)

Single
142
97
214
31
Small Double
142
128
214
31
Double
142
144
214
31
King
142
159
222
31
Super King
142
189
222
31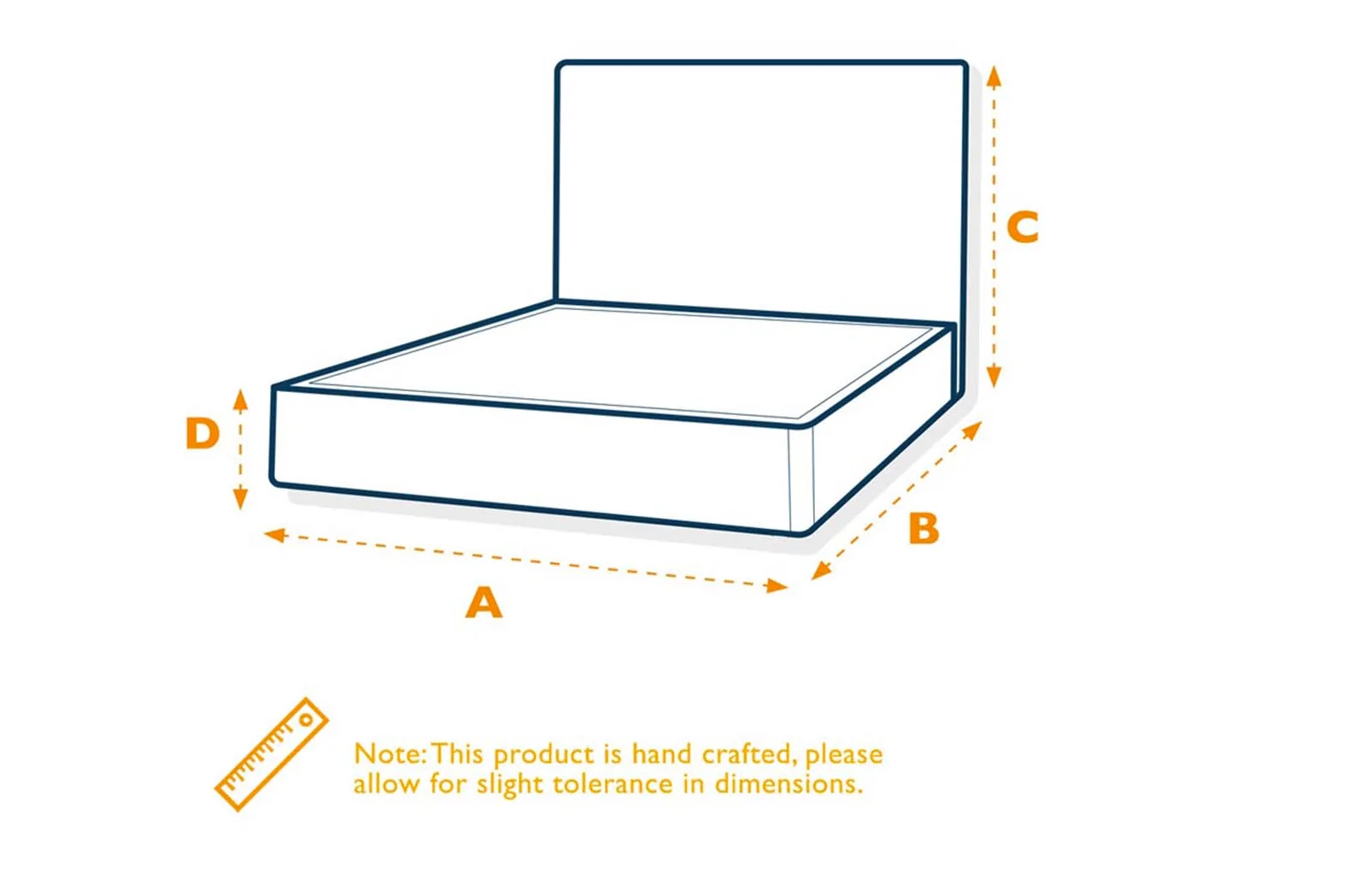 100% secure payments
Hoiden Upholstered Bed Frame
A bedroom should be functional, but that doesn't mean you can't add a little touch of fashion to it as well. From making a statement to bringing great colours, comfort and class to the room you spend the most time in, the ideal bed frame can set everything perfectly.
With this in mind, the handmade Hoiden upholstered bed frame is ideal for connoisseurs of taste and grandeur. The elegant design is matched by the soft and luxurious feel of the fabrics, guaranteeing sweet dreams for those who lay their head beneath the bed frame.
There is a great deal of flexibility for you with this bed frame, as it comes in 3 sizes and 24 Malia Plush Velvet and Linen colours. Whether you are looking for a glorious finish to a 4'0 Small Double, 4'6 Double or 5'0 Kingsize bed, we are sure you will appreciate your options. Also, the headend stands at 142cm tall, making this addition to your room the height of sophistication.
We believe nothing is too good or too special for your bedroom, and we love that all items are handmade. The added touch of love, care, and affection found in hand-crafted items will immediately find itself at home in your bedroom, offsetting the room in a lively yet welcoming style.
Of course, we know tastes differ from person to person, and this is why you will love hearing the Hoiden upholstered bed-frame can be finished in a wide variety of colours and fabrics. This is precisely what you are looking for to make others wink while you smile, but perhaps you are searching for other colours. From silver to dramatic charcoal to the fragile yet beckoning duck egg, the principal limit on your finish is your imagination.
The same goes for the finish for the bed frame. We know people love running their hand over the upholstered plush fabric, as soft as the sheep you might count to nod off at the end of the day, but if you are looking for something else, you can style your bed frame any way you like.
At Magna Beds, we aim to please, and we do this by being flexible in creating handmade products you take to your heart. It's a wonder we can get our headrests out the door due to our team wanting to keep the softness to themselves, but we know they are going to a good home.
It's hard to put a price on comfort, style and soft fabrics in your bedroom, but we are sure that anyone looking to make a grand statement will find this is the ideal way to finish off their room. Whether you combine or clash the headrest with the wall colours, you will see why this space is known as the master bedroom.
Hoiden is a name known and trusted for creating luxury additions to your home, and when it comes to the handmade upholstered bed frame in Malia plush fabric or the beautifully elegant textured Linen headrest, we believe you'll love this as much as we do, and the customers who have already added it to their home, and their hearts.
* Bedframe only. Other fabrics and colours are available please call or email for more information.
Dimensions In cm:
Size

Height 

(C)

Width 

(A)

Length 

(B)

 Footboard
  Height (D)

Single
142
97
214
31
Small Double
142
128
214
31
Double
142
144
214
31
King
142
159
222
31
Super King
142
189
222
31