Hebden Upholstered Headboard
Free UK Delivery in 5-10 Working Days
Size

Height (cm) 

(A)

Width (cm) 

(B)

Depth (cm) 

(C)

Single

66
91
3

Small Double

66
122
3

Double

66
137
3

King

66
153
3

Super King

66
183
3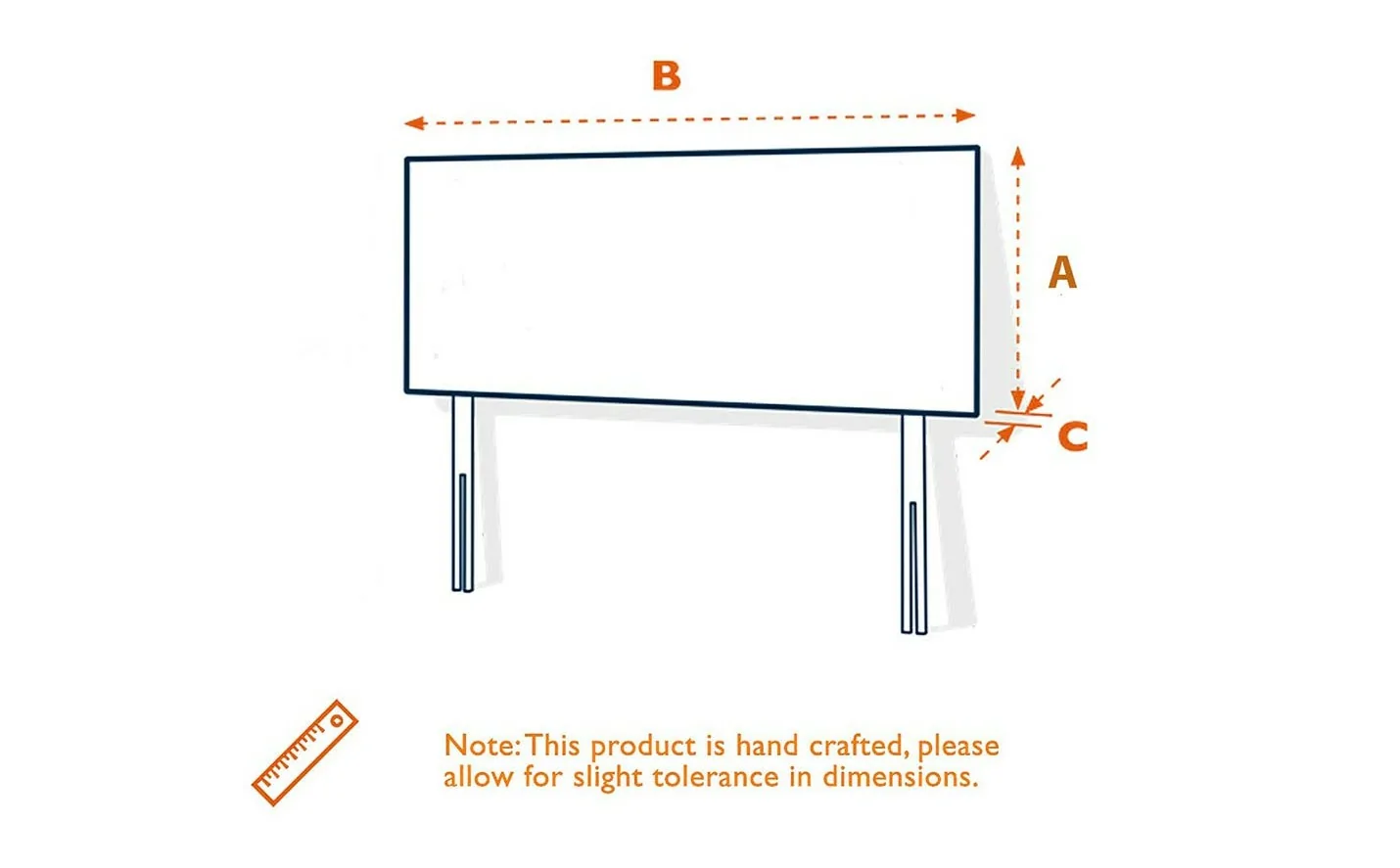 100% secure payments
Harber Upholstered Headboard
With its distinctively different styling, this striking headboard is bound to impress. Hebden stands at 26" and exudes quality from every angle. It's a classy, contemporary look, yet, like all our beautiful, handmade headboards, it's built for long-lasting comfort too - at a remarkably competitive price! If you love Hebden, you'll be pleased to know that it comes in a variety of sizes and a choice of delectable colours and fabrics.
Size

Height (cm) 

(A)

Width (cm) 

(B)

Depth (cm) 

(C)

Single

66
91
3

Small Double

66
122
3

Double

66
137
3

King

66
153
3

Super King

66
183
3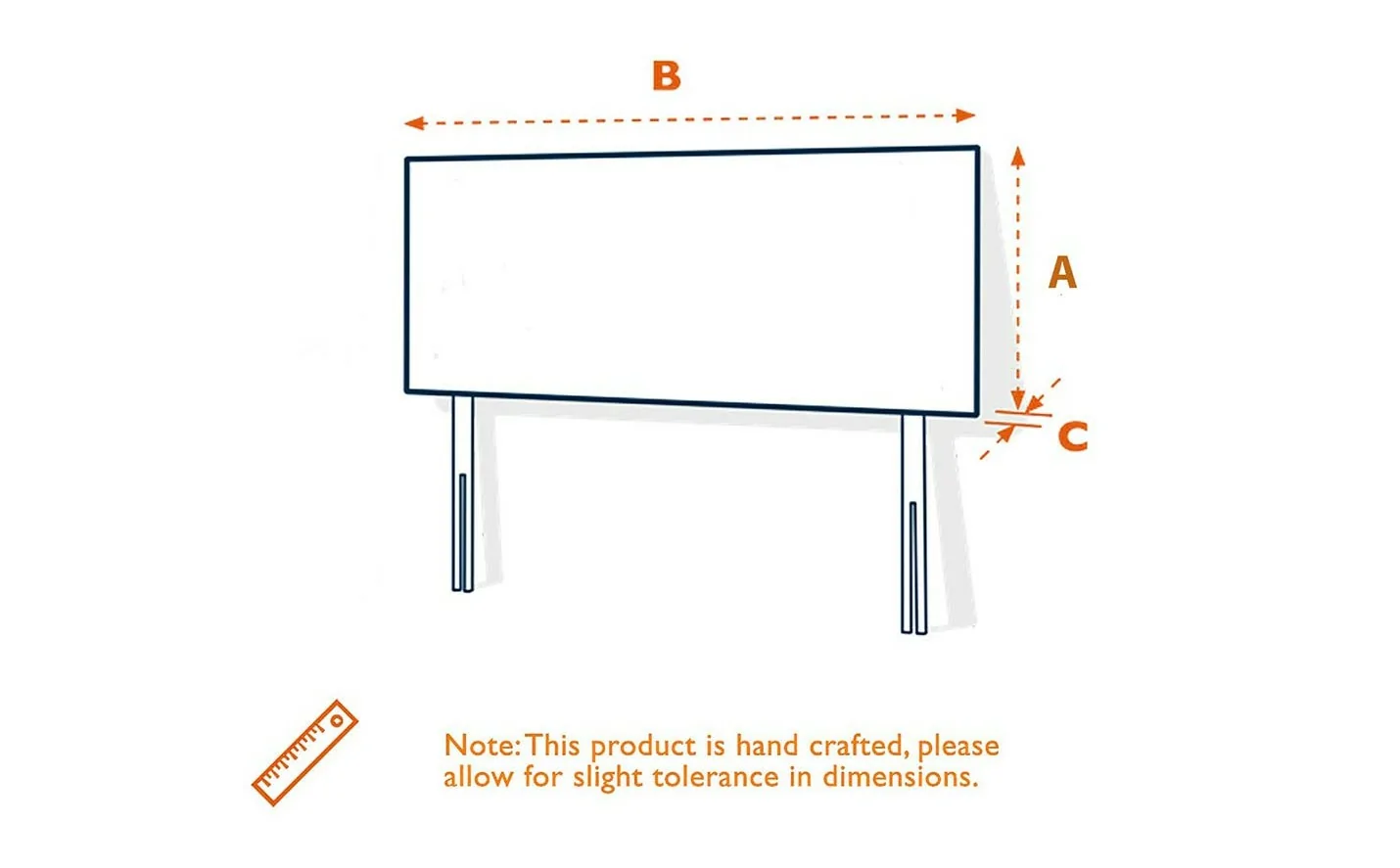 Customer also purchased
Customer Reviews
I purchased a wall-mounted Tasse headboard which was reduced in height from 102cm to 60cm due to a sloping wall above the bed. It's a high-quality item that greatly enhances the bed and bedroom. I'm very pleased with it. I've given 4 rather than 5 stars because of shortcomings in the cleat fixing which is used to secure the headboard to the wall. The fixing itself is a good idea, but it was too far recessed into the headboard to allow the top part of the cleat (fixed to the headboard) to hook onto the bottom part of the cleat (fixed to the wall). This is either an oversight in terms of not using a thick enough cleat (these are made from MDF), or the company's expectation is that you loosen the fixing screws on the cleats to get the extra depth required (8mm in this case). The latter solution is a bit of a bodge to my mind and not ideal (or perhaps safe) given the weight of the headboard - I'm not even sure that it would have worked. I therefore thickened the cleats by cutting and fixing an additional 9mm of MDF to each cleat. Doing this added time and expense to the job, but it did mean that I didn't have to loosen screws to get the cleat engaged and the headboard tight against the wall. If you instead loosen the cleat screws, then the top and bottom parts of the cleat will not be in contact with the headboard and wall respectively and, as I say, that is unsatisfactory in my view.
Good quality. Even modified to my specification
81 Reviews
The item was delivered on time and very well wrapped. The headboard was perfect in colour, shape and condition. It is a lovely addition to the bedroom. A great item at a good price.
1 days ago
2nd bed I have bought from Magna and it's perfect. Really well made, very sturdy and heavy. Excellency value for money compared to other versions I'd seen. Service is very professional and brilliant customer service. I would definitely recommend
1 days ago
Stunning headboard, I love it so much! I bought the wall mounted Chesterfield and dubious how secure the wall fitting would be but it was really easy to fit and super secure. Thick padding and super soft material give it a luxurious feel. I've added a photo before the room has been dressed so won't give the best impression but I can't wait to get my bed back in the room x thank you!
5 days ago
Really pleased with our purchase of a quarterised bed and wall mounted headboard. The staff were really helpful The bed and headboard are good quality Arrived well packaged Easy to assemble Thanks for a great service Would recommend
29 days ago
Excellent products, service and communications
1 months ago
Great headboard. Great price. Great service. A all round great experience. I will definitely be using Magnabeds again.
1 months ago
It's fantastic! It's heavy, but boy is it comfortable! It looks luxurious and is, a very good price too.
2 months ago
Absolutely excellent service and love our new bed!
2 months ago
Beautiful wm HB bought. Well made. Great price. Excellent packaging. Only thing I don't like is the advertising of free delivery to mainland UK with costs for remote areas. All the chargeable postcodes are Scotland and Wales! I live in Scottish Borders which is not remote but am chargeable. Say free to England but costs apply to Wales & Scotland. Very happy with the purchase.
2 months ago
See All Reviews