Amelia Linear Ottoman Divan and Headboard 3ft Single - Malia Plush Velvet - Beige
Free UK Delivery in 5-10 Working Days
Size

Height 

(C)

Width 

(A)

Length 

(B)

Single
39
100
195
Small Double
39
130
195
Double
39
145
203
King
39
160
203
Super King
39
190
203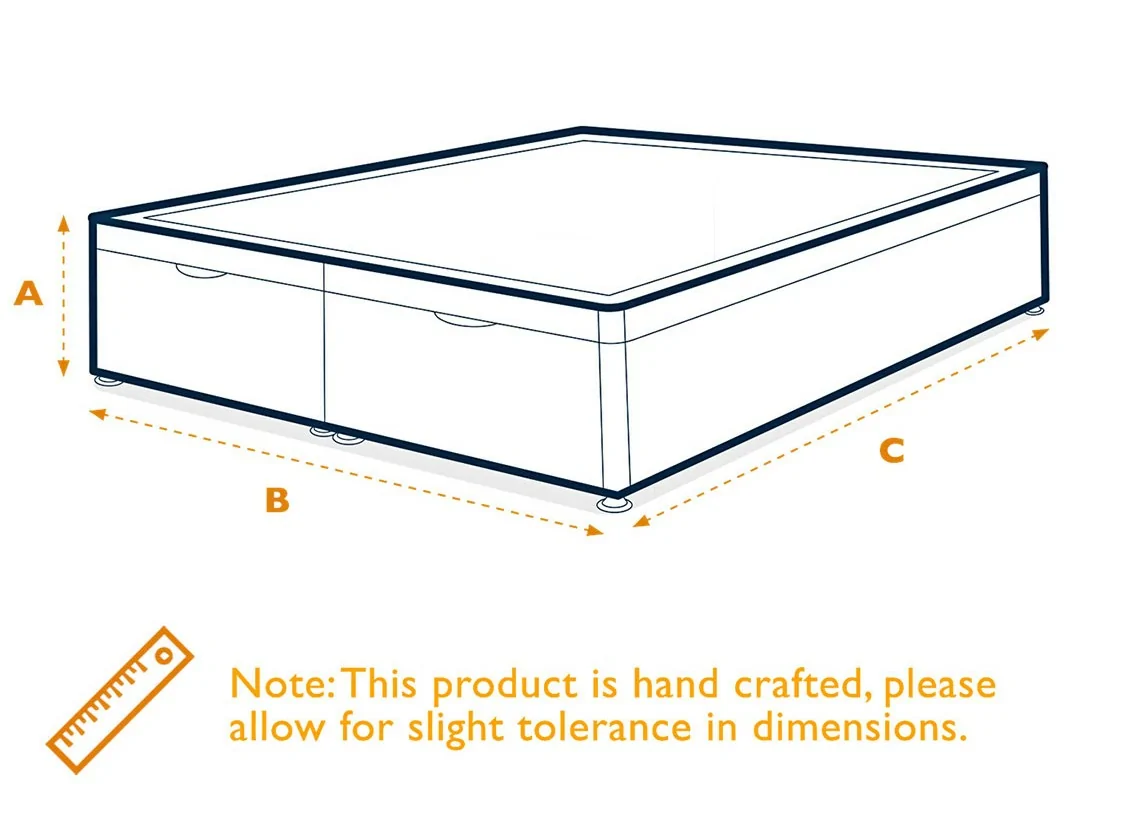 100% secure payments
Amelia Linear Ottoman Divan and Headboard
A good bedroom says and does so much for your attitude and outlook on life. Knowing that you are going to sleep in a stylish room keeps you in a good mood throughout the day, and when you wake up in splendour, you are all set for a great day ahead of you! This is why homeowners need to consider the Amelia Linear Ottoman Divan Bed with Harewood Linear Headboard for their bedroom!
The Ottoman divan bed with headboard is available in silver Malia plush velvet, and we think it is one of the softest and alluring additions to a bedroom you can make. If the colour doesn't immediately grab you, you can choose from 12 colours in total, so there is sure to be a finish and colour that you fall in love. Also, you'll love the curved wings, adding the perfect finishing style to the bed and headboard.
As well as the stunning Malia plush velvet fabric, the Ottoman divan bed was handmade in the UK. We all know handmade products add an extra level of love and affection, which is exactly what you want in the bedroom. By buying this stunning bed with headboard, you not only create a brilliant style at home, you support workers and craftsmanship in the UK, which is always a pleasing outcome.
We know that people and bedrooms come in all shapes and sizes, so you will be pleased to the learn the Amelia Linear Ottoman Divan Bed with Headboard does too. Yes, luxury bed is available in all UK sizes. You can choose from 3'0 Single, 4'0 Small Double, 4'6 Double, 5'0 Kingsize and 6'0 Super Kingsize; which means you should be right at home, no matter what you need.
Another thing to consider is the headboard standing at 137cm tall. This is more than enough height to allow you to find a position that is comfortable and right for you. Whether you are the sort of person who likes to sit up in bed and read a book or watch TV, or you like to laze around and get comfortable, you have the support in place that ensures you can relax and unwind in a way that is best for you.
At Magna Beds, we want to encourage people to enjoy their home and bedroom as they want it, and we are thrilled to offer this bed with headboard in 12 different colours. We know you'll love the soft feel of the Malia plush velvet fabric, but you will adore having a choice of colours. Whether you are looking for bold colours, complimenting shades or something that is uniquely you, you will find it all and a whole lot more with this Ottoman divan bead and headboard.
While we are convinced this bed is the height of luxury, we are very proud of its functional benefits. The linear design is sleek, and it allows for a considerable amount of storage. You will be surprised the first time you lift the Ottoman bed to find the immense array of storage space underneath. When you want to make your bedroom appear larger, and less cluttered, this solution is the perfect mix of luxury and storage capabilities that will take your breath away.
At Magna Beds, we aim to please, and we believe this handmade bed with curved wings is the bottom line in class, elegance and style. Whether your main focus is on space saving, comfort or grabbing attention, the Liberty Linear Ottoman Divan Bed with Headboard is ideal for you and your household.
Brand

Magna Beds

Ottoman Divan

Anti-Slip material to secure mattress
Choice of fabric colours
Comes in two piece on 4ft small double, 4ft6 double, 5ft kingsize and 6ft super kingsize
Fitted with 800 newton gas lift pistons (end lift)
Handmade in the UK
High quality timber construction
Reinforced slatted wooden platform top
Solid MDF wooden base sides
Strong corner joints and enhanced edges
Size

Height 

(C)

Width 

(A)

Length 

(B)

Single
39
100
195
Small Double
39
130
195
Double
39
145
203
King
39
160
203
Super King
39
190
203