Lorenza Ottoman Divan and Headboard
If you believe your bedroom should be a place where you relax, unwind and forget about your daily toils and troubles, the Lorenza Ottoman Divan Bed with Headboard is the perfect bed for you. This is a hugely attractive bed that feels even better than it looks, and we are sure you'll be counting down the hours until bed every night when you have this in your bedroom.
One of the most appealing factors of the bed is the Malia plush velvet. If you want to feel as though you're drifting off to sleep on a cloud, this is the perfect bed for you. Given it was handmade in the UK adds an extra touch of why this bed is ideal for your home, but in reality, the Malia plush velvet is the only reason you need!
While the finish comes in silver at first, you will be delighted to know you can choose between 12 colours. No matter the style or look you want to achieve in your bedroom, you will find the Ottoman divan bed pulls it all together. Whether you want to make a bold statement, to compliment your walls, or just bring your favourite colour to life in your favourite room, we are sure that you will love this handmade UK bed with a linear design.
One issue that is vital for people when choosing then right bed is selecting the ideal size. You want to feel comfortable and right at home when you nod off to sleep. At Magna Beds, we are delighted to offer the Ottoman divan bed with headboard in all UK sizes. Yes, you can opt for 3'0 Single, 4'0 Small Double, 4'6 Double, 5'0 Kingsize and 6'0 Super Kingsize, so no matter the size of your bedroom, or how much space you enjoy when you sleep, we have you covered!
You will also appreciate the headboard standing at 137cm tall. This creates a perfect finish to the bed, and gives you plenty of support. Whether you like to relax in your bed for some time, or you just want to slip soundly off to sleep, you can do so in immense comfort, and at the height of luxury.
The hand upholstered element of the board is another factor that people are instantly drawn to. With the deep button design adding an additional stylish and attractive element, it is a bed worth talking about, and one you will look forward to seeing day after day.
While we are sure you love the look and the linear design of the Ottoman divan bed, the storage space offered might be its most pleasing feature. We all want to create a sleek and spacious bedroom, but it can be hard to find storage space to set the room up in the way we like.
By lifting the bed, you gain access to storage space that helps you maintain the sense of space, without impacting on how stylish the bed looks or feels.
At Magna Beds, we want you to find the bed of your dreams. The Lorenza Ottoman Divan Bed with Headboard is as luxurious and as welcoming as it sounds, and we know you'll love this from first glance in your home.
Order free sample Swatches
Size

Height

(C)

Width

(A)

Length

(B)

Single
39
100
195
Small Double
39
130
195
Double
39
145
203
King
39
160
203
Super King
39
190
203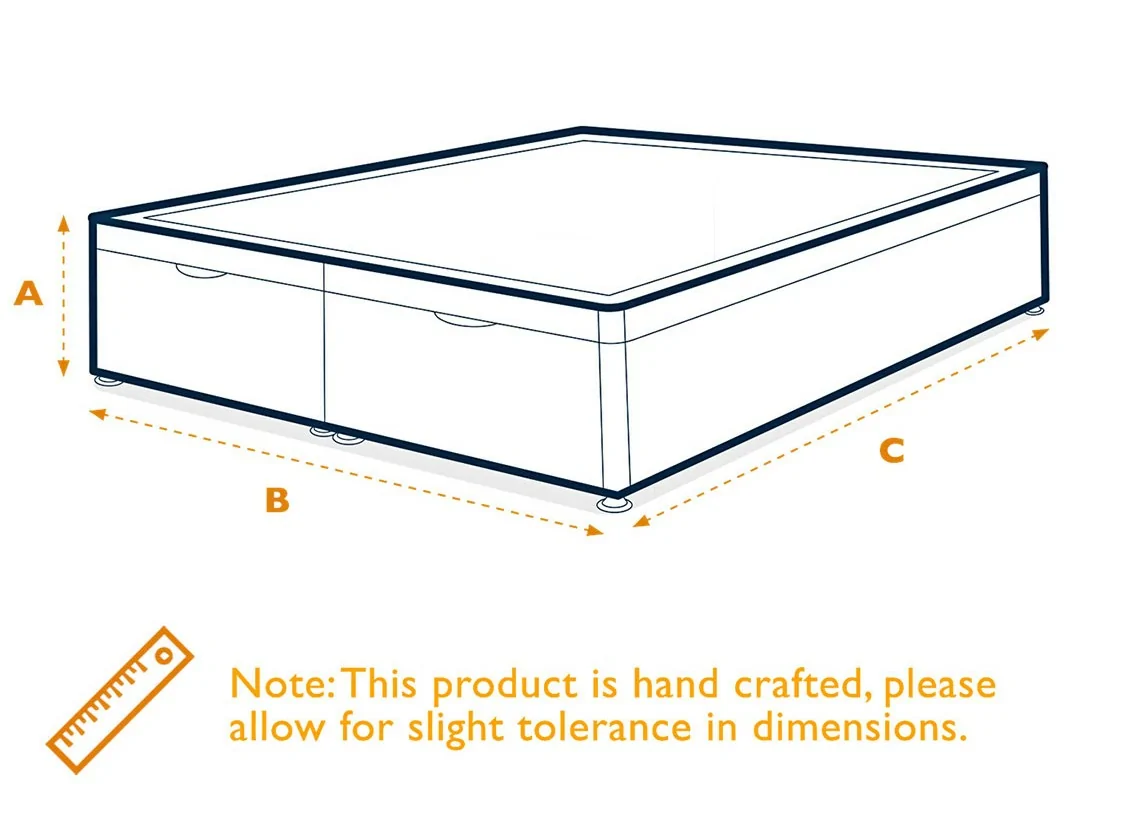 Quality really matters to us at Magnabeds. A new bed is one of the major home buys in a persons life, and this is why we feel it more important to provide a long lasting, quality product for you to enjoy for years to come. Being the manufacturer we can offer some great pricing compared to other online retailers and especially stores on the high street.
Discover more by browsing through our website. Questions? Please feel free to contact us where we are more than happy to discuss your needs.