Amelia Linear Ottoman Divan Base
3 Year Warranty
Free UK Delivery in 5-10 Working Days
Handcrafted In The UK
Amelia Linear Ottoman Divan Base
A good bedroom says and does so much for your attitude and outlook on life. Knowing that you are going to sleep in a stylish room keeps you in a good mood throughout the day, and when you wake up in splendour, you are all set for a great day ahead of you! This is why homeowners need to consider the Amelia Linear Ottoman Divan Base for their bedroom!
The Ottoman divan base is available in silver Malia plush velvet, Naples soft velvet, Linen, Chenille and Crush velvet and we think it is one of the softest and alluring additions to a bedroom you can make. If the colour doesn't immediately grab you, you can choose from 56 colours in total, so there is sure to be a finish and colour that you fall in love.
As well as the stunning stunning range of fabrics and colours, the Ottoman divan bed is handmade in the UK. We all know handmade products add an extra level of love and affection, which is exactly what you want in the bedroom. By buying this stunning ottoman divan bed, you not only create a brilliant style at home, you support workers and craftsmanship in the UK, which is always a pleasing outcome.
We know that people and bedrooms come in all shapes and sizes, so you will be pleased to the learn the Amelia Linear Ottoman Divan Bed does too. Yes, luxury bed is available in all UK sizes. You can choose from 3'0 Single, 4'0 Small Double, 4'6 Double, 5'0 Kingsize and 6'0 Super Kingsize; which means you should be right at home, no matter what you need.
At Magna Beds, we want to encourage people to enjoy their home and bedroom as they want it, and we are thrilled to offer this bed in 5 different fabrics. We know you'll love the soft feel of our fabrics, but you will adore having a choice of 56 colours. Whether you are looking for bold colours, complimenting shades or something that is uniquely you, you will find it all and a whole lot more with this Ottoman divan base.
While we are convinced this bed is the height of luxury, we are very proud of its functional benefits. The linear design is sleek, and it allows for a considerable amount of storage. You will be surprised the first time you lift the Ottoman bed to find the immense array of storage space underneath. When you want to make your bedroom appear larger, and less cluttered, this solution is the perfect mix of luxury and storage capabilities that will take your breath away.
At Magna Beds, we aim to please, and we believe this handmade bed with curved wings is the bottom line in class, elegance and style. Whether your main focus is on space saving, comfort or grabbing attention, the Amelia Linear Ottoman Divan Bed Base is ideal for you and your household.
*Ottoman divan Base only. Headboard can be purchased separately.
Size

Height 

(C)

Width 

(A)

Length 

(B)

Single
39
100
195
Small Double
39
130
195
Double
39
145
203
King
39
160
203
Super King
39
190
203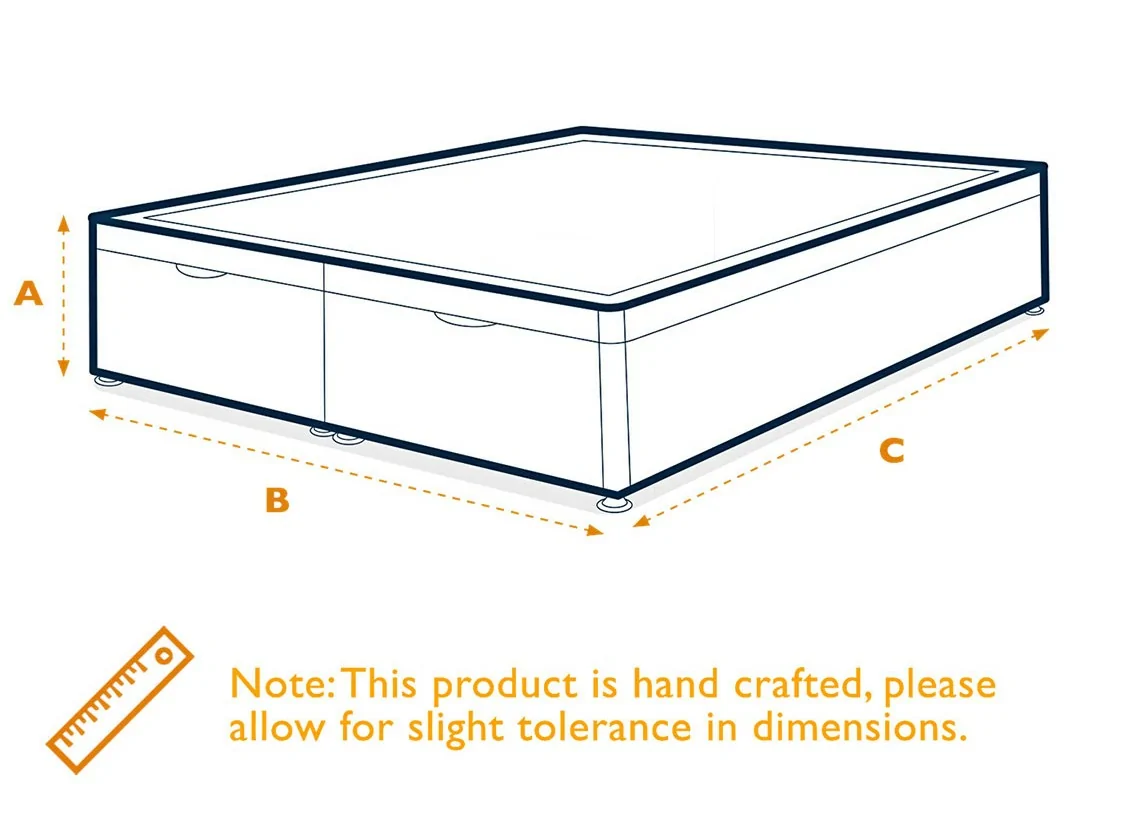 Customers who bought this product also bought: