Pelle Upholstered Headboard
Free UK Delivery in 5-10 Working Days
Size

Height (cm) 

(A)

Width (cm) 

(B)

Depth (cm) 

(C)

Single

66
91
3

Small Double

66
122
3

Double

66
137
3

King

66
153
3

Super King

66
183
3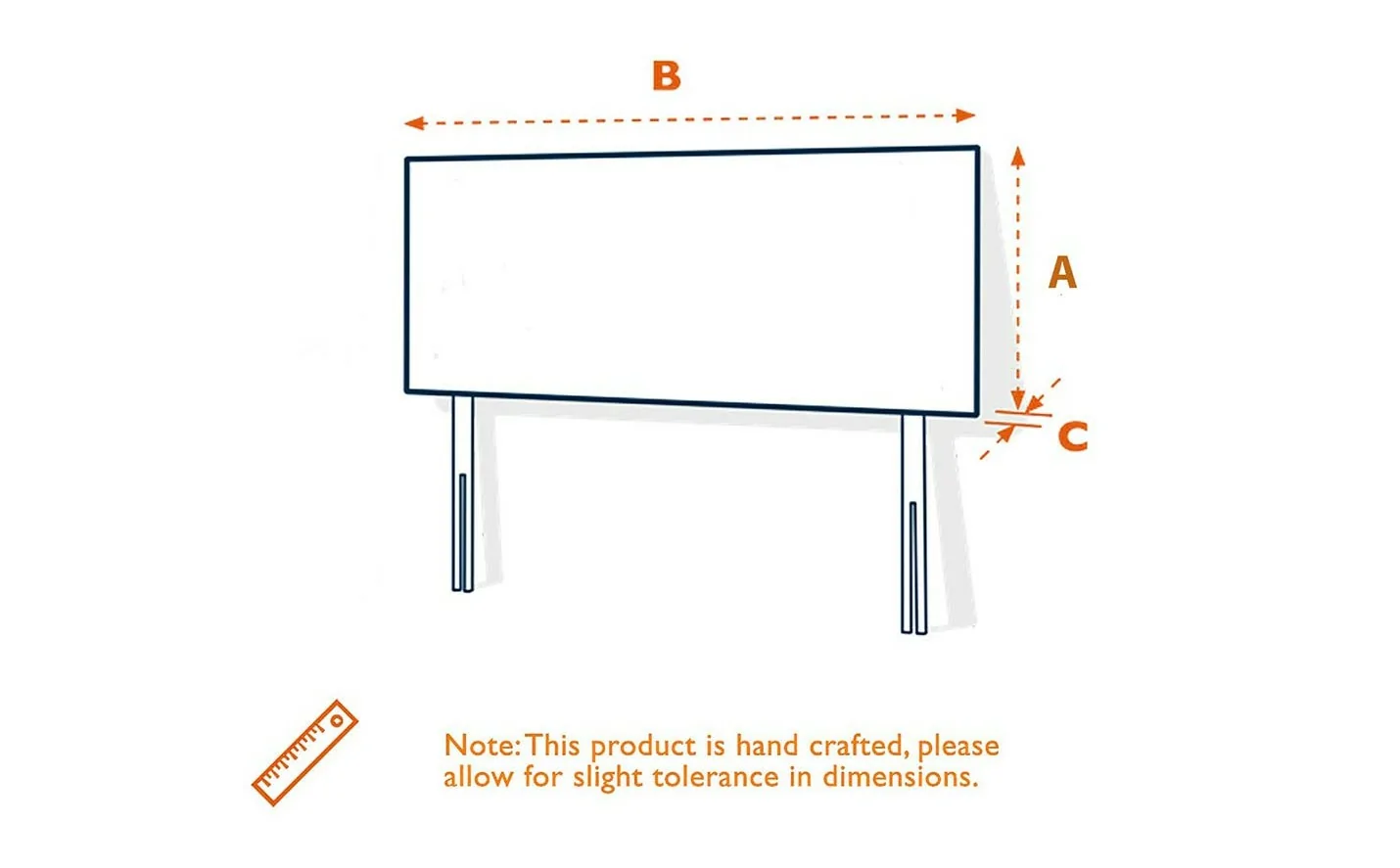 100% secure payments
Pelle Upholstered Headboard
This majestic Pelle hand-crafted headboard makes a magnificent style statement in your room and is sure to be admired.This handmade, strutted headboard will team up with any standard divan. Pelle proves for sure that style doesn't need to be complex to be beautiful: it's simple design marries perfectly with the deeply buttoned upholstery to give maximum comfort and a delightful, timeless feel. Available in a selection of colours, materials and standard sizes.
Size

Height (cm) 

(A)

Width (cm) 

(B)

Depth (cm) 

(C)

Single

66
91
3

Small Double

66
122
3

Double

66
137
3

King

66
153
3

Super King

66
183
3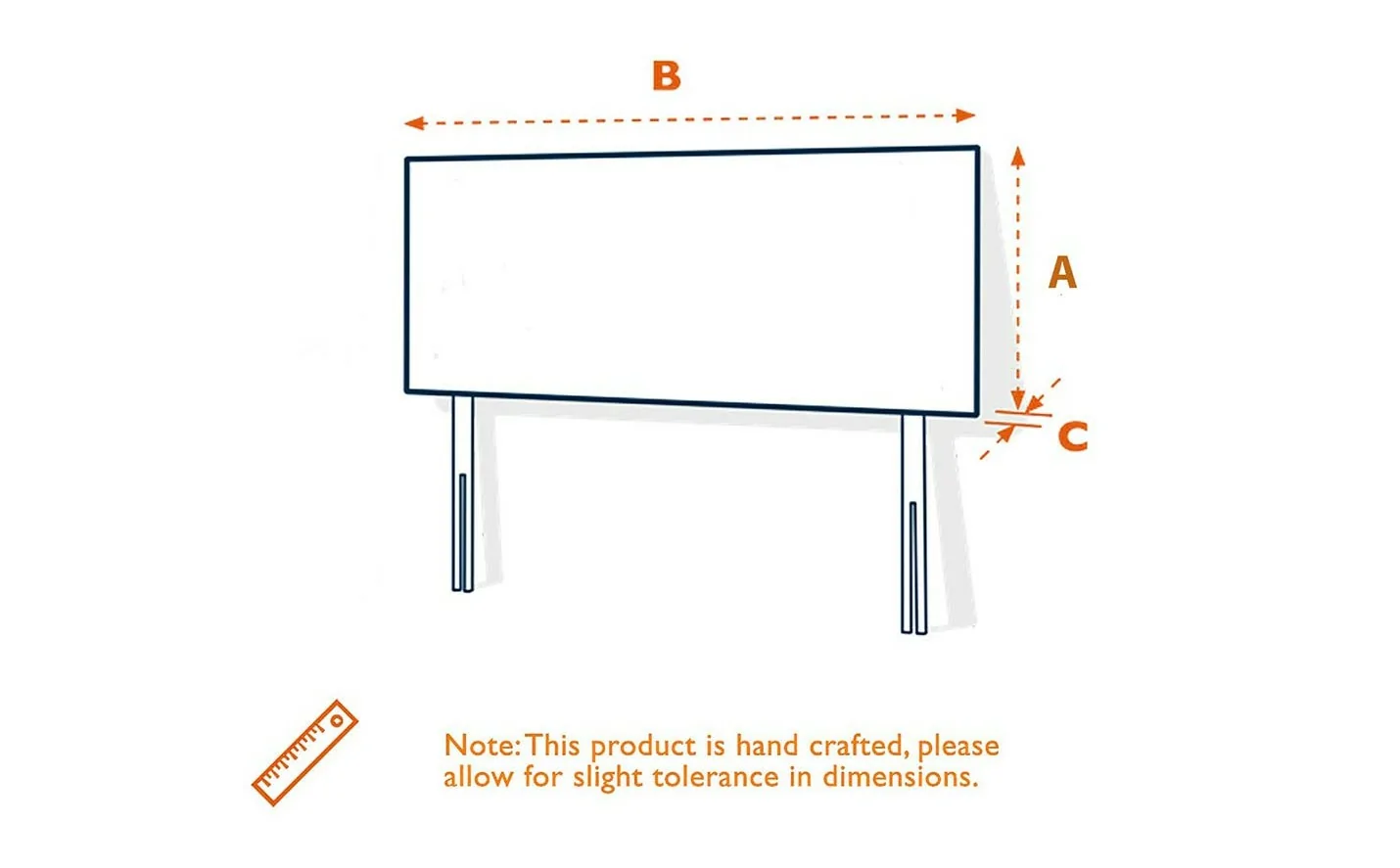 81 Reviews
The item was delivered on time and very well wrapped. The headboard was perfect in colour, shape and condition. It is a lovely addition to the bedroom. A great item at a good price.
1 days ago
2nd bed I have bought from Magna and it's perfect. Really well made, very sturdy and heavy. Excellency value for money compared to other versions I'd seen. Service is very professional and brilliant customer service. I would definitely recommend
1 days ago
Stunning headboard, I love it so much! I bought the wall mounted Chesterfield and dubious how secure the wall fitting would be but it was really easy to fit and super secure. Thick padding and super soft material give it a luxurious feel. I've added a photo before the room has been dressed so won't give the best impression but I can't wait to get my bed back in the room x thank you!
5 days ago
Really pleased with our purchase of a quarterised bed and wall mounted headboard. The staff were really helpful The bed and headboard are good quality Arrived well packaged Easy to assemble Thanks for a great service Would recommend
29 days ago
Excellent products, service and communications
1 months ago
Great headboard. Great price. Great service. A all round great experience. I will definitely be using Magnabeds again.
1 months ago
It's fantastic! It's heavy, but boy is it comfortable! It looks luxurious and is, a very good price too.
2 months ago
Absolutely excellent service and love our new bed!
2 months ago
Beautiful wm HB bought. Well made. Great price. Excellent packaging. Only thing I don't like is the advertising of free delivery to mainland UK with costs for remote areas. All the chargeable postcodes are Scotland and Wales! I live in Scottish Borders which is not remote but am chargeable. Say free to England but costs apply to Wales & Scotland. Very happy with the purchase.
2 months ago
See All Reviews