Magna Beds invites you to immerse yourself in a world of comfort and elegance, a world where quality, craftsmanship, and colour converge to create the perfect ambience for your bedroom. 
We understand that choosing the perfect fabric for your bed or headboard can be a daunting task. With this in mind, we've included some guidance below on our range of luxurious fabrics, materials and colours, so you know what to expect from our range and how to find that perfect match.
To make it easier to find your fabric to fall in love with, we've introduced a service that allows you to sample our luxury fabrics, right in the comfort of your home.
Our Fabric Sample Service is designed to ensure that you make the best possible choice for your bedroom. You can now order samples of our superior fabrics, each sourced from leading Yorkshire fabric houses and hand-upholstered onto our beds and headboards. Our luxurious range graces boutique hotels across the country, and now we bring this touch of luxury to you, and into your home.
What fabric is best for your bedroom?


When it comes to choosing a beautiful fabric for your next bed and headboard, the options are as varied as your tastes. Each of our fabrics is chosen for its unique blend of durability, aesthetic appeal, and tactile comfort.
Linen and Chenille, both renowned for their durability, can withstand the test of time while maintaining an impressive appearance.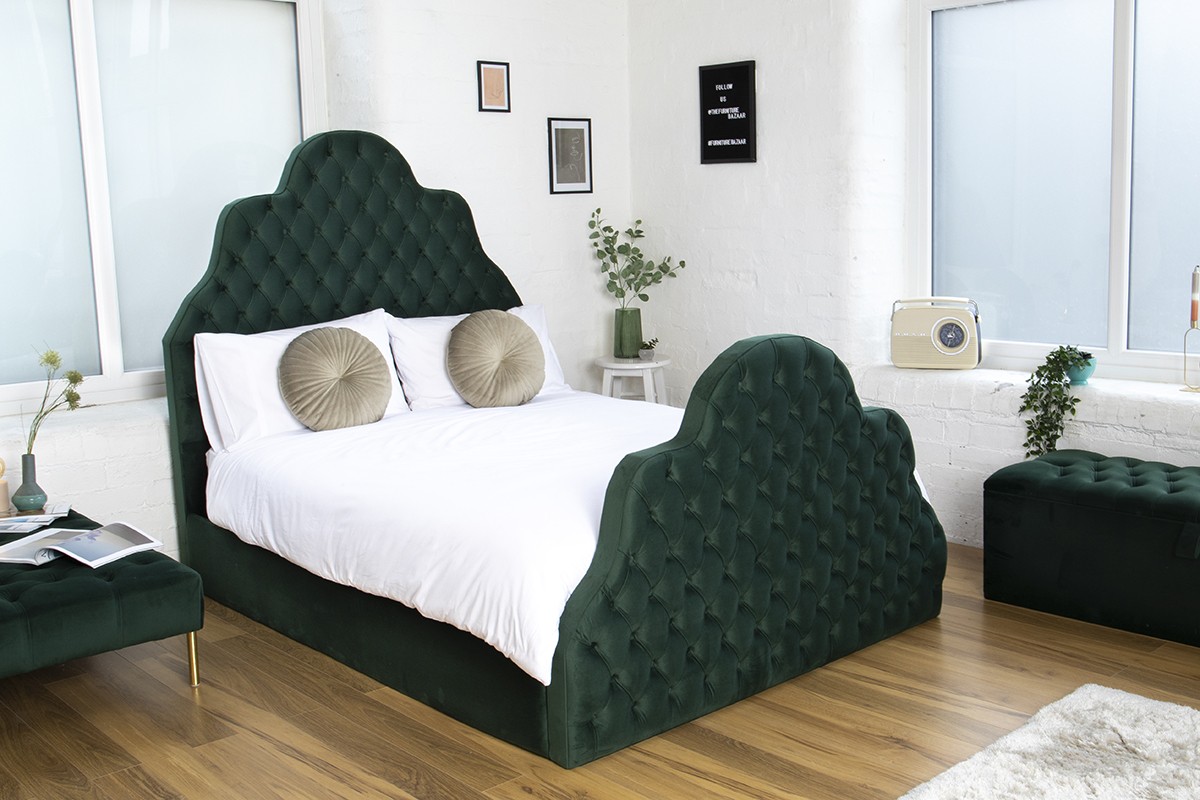 For those seeking the epitome of luxury, our range of velvets - Naples Soft Velvet and Crush Velvet - offer a soft, sumptuous feel with a beautiful shimmering look. If you prefer a furrier texture, our Malia Plush Velvet is sure to captivate you.
Boucle, Genoa, and Coniston are unique additions to our collection, each providing a distinct touch of elegance. We appreciate these fabrics might be new to you, so we'd like to introduce them in greater detail, because we are sure you will love them:
Boucle Fabric


Boucle is a textured fabric known for its distinctive curly loops (the name itself derives from the French word for curled or ringed) and its comfortable feel. It has a unique, complex structure that gives it excellent durability, while its distinctive texture adds depth and interest to furniture pieces.
Boucle can be woven from a variety of materials, but it's often made from wool or wool blends, providing a warm and cosy feel. This fabric is excellent for adding a tactile element to your bedroom, inviting you to sink into your bed after a long day.
Genoa Fabric


Genoa is a type of woven fabric that's characterised by its smooth, flat finish. It's often made from synthetic materials, which give it excellent durability and resistance to wear and tear. Genoa is a popular choice for upholstery because it can withstand heavy use while still maintaining its sleek appearance.
The fabric's smooth texture and sheen can add a touch of elegance and sophistication to your bedroom.
Coniston Fabric


Coniston is a high-quality fabric often used for its rich texture and excellent durability. This fabric is often made from a blend of materials, providing both comfort and longevity. Coniston is well-known for its softness and its ability to maintain its shape and colour over time, even with heavy use. This makes it an excellent choice for bedroom furniture that sees a lot of use, such as beds and headboards. The rich texture of Coniston fabric can give your bedroom a luxurious, inviting feel.
Add warmth or sophistication to your bedroom


As the mercury drops and the winter season takes hold, there's nothing more comforting than retreating to a warm, inviting bedroom. This is where our Andora Wool fabric truly shines. Sourced from top-quality wool, this fabric is renowned for its exceptional warmth, transforming your bed into a cosy haven against the winter chill.
For a touch of sophistication without the maintenance of real leather, our faux leather offers a premium feel, excellent durability, and easy cleaning.
What colours are best for your bedroom?


Colour is a powerful tool in creating your desired ambience. Whether you want a light and airy feel, a cosy and warm vibe, a neutral look, or a bold statement, we have a spectrum of colours to match your vision.
Enjoy a serene atmosphere in your bedroom


If you're looking to create a light, airy, and serene atmosphere in your bedroom, consider our range of spring and summer colours. These include delicate pastels, serene light blue, charming pink, elegant ivory, and soothing duck egg. These hues, often associated with tranquil morning skies and blooming spring gardens, help to create a refreshing and revitalising ambience.
When paired with our linen fabrics, known for their breathability and crisp, cool feel, these colours can transform your bedroom into a calming retreat, perfect for unwinding on warm, sunny days. This palette, with its light and breezy tones, encourages relaxation and adds a touch of freshness to your space, offering a lighter feel that's perfect for those who love to let in the daylight.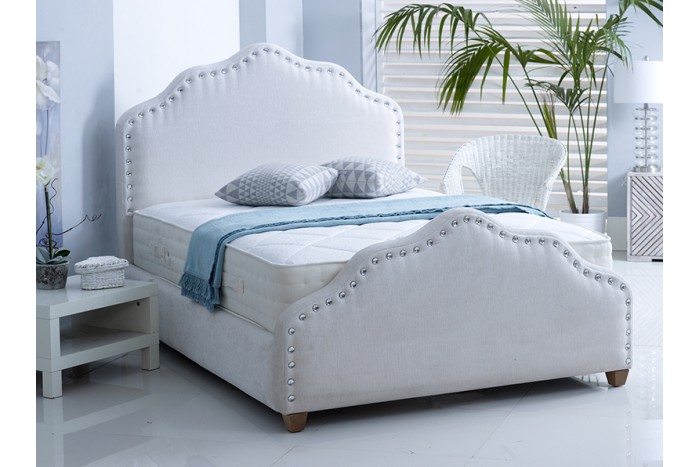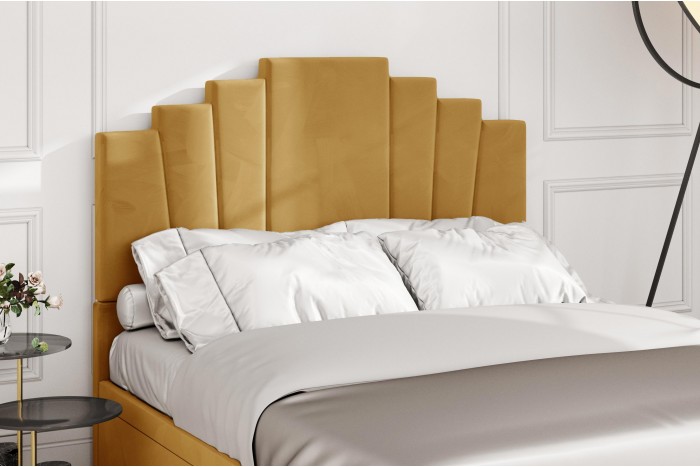 Create a rich and welcoming environment


On the other end of the spectrum, if you're aiming for a cosy, warm, and inviting feel, our range of intense, darker shades is the ideal choice. This palette includes the deep richness of burgundy, the sophisticated hue of aubergine, the vibrant intensity of raspberry, the classic boldness of red, the tranquil depth of dark blue, and the inviting warmth of mustard .
These colours, reminiscent of vibrant autumn leaves and cosy winter evenings by the fireplace, create a sense of warmth and comfort.
Mid-range colours make you feel at home


Our mid-colour range fabrics, featuring hues such as soothing greys , calming creams, shimmering silvers, elegant ivory, and tranquil teal, offer a beautifully neutral palette. These tones serve as the perfect canvas, seamlessly blending into any bedroom decor while still adding a touch of sophistication.
They harmonise effortlessly with bright room decor, sheets, and cushions, allowing those vibrant elements to truly pop. The versatile nature of these mid-range colours makes them an ideal choice for those who frequently change their room accents or for those who appreciate a balanced, harmonious aesthetic in their bedroom.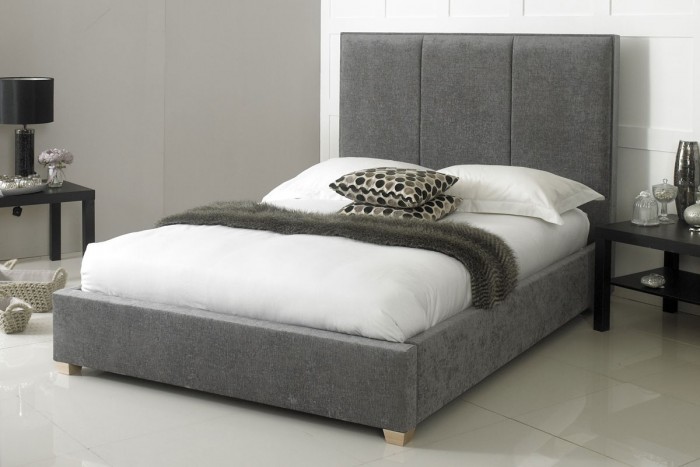 Be bold in the bedroom


If you're looking to make a striking visual impact, our deep browns and dark greys are a perfect choice. These rich, intense shades instantly elevate the aesthetic of your room, transforming your bed into a dramatic focal point. The allure of these deeper hues lies in their ability to convey a sense of depth and luxury.
Whether it's the warm earthiness of deep brown or the sleek sophistication of dark grey, these colours add a layer of drama and opulence to your bedroom, ensuring your bed is not just a place for rest, but also a statement piece that reflects your personal style. So, if bold and dramatic is your style mantra, our deep brown and dark grey fabrics will help you create a bedroom that's truly a reflection of you.
Make your mind up in complete confidence


We highly recommend that you order samples before making your final choice. 
For a small fee of £1.99, you can choose up to 5 samples to be delivered to your home . This allows you to feel the texture, see the colour in your own lighting, and ensure you love the material before you commit. 
With so many options available, we want to help you find the perfect fit for your bedroom. Begin your journey towards a luxurious, personalised bedroom with Magna Beds today.