If you're looking for the most luxurious, comfortable and supported mattresses available, you don't need an infinite range to choose from, you need the best mattresses and then you can select the one that suits you perfectly. This is why Magna Beds only stocks four mattresses in total. We review a huge range of mattresses so you don't have to, and we hand select mattresses that pair perfectly with our beds.
We offer comfortable options for all manner of budgets, sizes, comfort, firmness and support needs, as well extra features to choose from too. At Magna Beds, we know mattresses inside out, which is why we only offer you the very best of the best, so you can be confident in whatever option you select.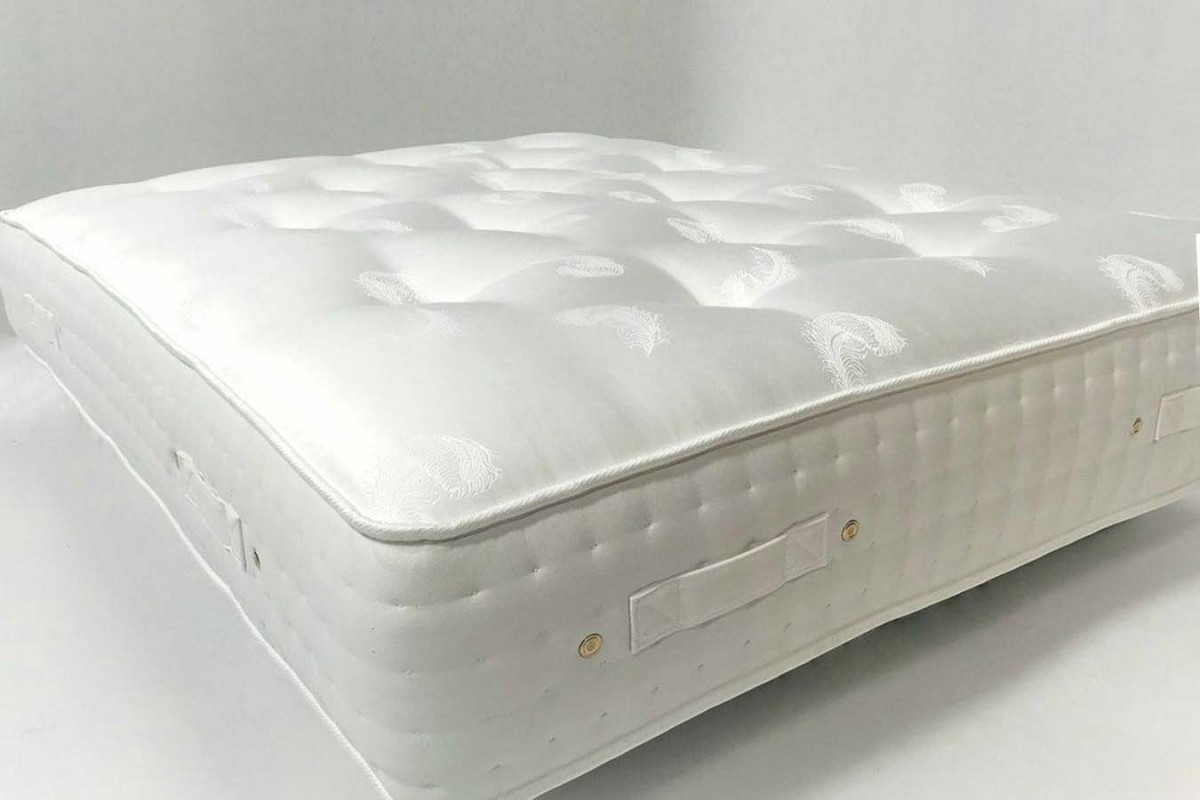 What elements make our mattresses stand apart from the rest?


If you're on our site looking for a mattress, you don't need us to explain what a mattress is, but you might benefit from us explaining certain aspects of our mattresses in greater detail, and what these features mean for you.
What are pocket spring mattresses, and why are they a great choice?


We understand that choosing the right mattress is essential for a good night's sleep. That's why we offer pocket spring mattresses, which are a fantastic choice for your sleep needs.
Pocket spring mattresses are designed with individual springs encased in their own fabric pockets. This unique construction allows each spring to move independently, providing targeted support and minimising motion transfer. Whether you're a light sleeper or sharing a bed with a partner, pocket spring mattresses ensure undisturbed sleep throughout the night.
The pocket spring system offers superior support and comfort by contouring to your body's natural curves. The individual springs adapt to your weight distribution, providing optimal pressure relief and reducing the risk of discomfort or pain. With a pocket spring mattress from Magna Beds, you can wake up feeling refreshed and revitalised, ready to take on the day.
Durability is another standout feature of pocket spring mattresses. The individual pocketed springs are highly resilient, offering long-lasting support and preventing sagging over time. This means you can enjoy the benefits of a supportive mattress for years to come, ensuring a worthwhile investment in your sleep quality.
For quality bedding, what is Egyptian cotton and why is it better?


When it comes to luxurious bedding, Egyptian cotton stands out as a superior choice. At Magna Beds, we prioritise providing you with the finest materials, and that's why we offer Egyptian cotton bedding borders.
Egyptian cotton is a premium type of cotton that is grown in Egypt's Nile River Valley. It is known for its exceptional quality, softness, and durability. The favourable climate conditions and fertile soil in this region contribute to the production of long-staple cotton fibres, which are the hallmark of Egyptian cotton.
One key advantage of Egyptian cotton is its long staple length. Longer fibres result in stronger and finer threads, which ultimately produce smoother and more lustrous fabrics. This translates to bedding that feels incredibly soft and luxurious against your skin, creating a truly indulgent sleep experience.
Another remarkable characteristic of Egyptian cotton is its superior breathability. The natural properties of the cotton fibres allow air to circulate freely, helping to regulate body temperature and keep you cool and comfortable throughout the night. This breathability also contributes to better moisture absorption, wicking away perspiration and leaving you feeling fresh and dry.
You will love our premium Kensington mattresses


When it comes to the gold standard of pocket sprung mattresses, we believe you'll love our Kensington mattresses. We don't offer a massive range of mattresses as all of our Kensington Collection are carefully selected, tested and approved by our team to pair perfectly with our luxurious beds.
The word premium instantly springs to mind with our Kensington mattresses, with a host of fantastic features that ensure you get the best night's sleep, every day or night.
Key features of the Kensington mattress collection include:
Sumptuous comfort, thanks to the deep filling on both sides of the mattress, which means you can turn and use the mattress on both sides
Air vents which regulate the temperature, ensuring you stay cool, which is helpful for a great night's sleep
Tufted for a long-lasting shape and an even feel
Handles to make it easier for you to turn and move the mattress when required
We make every Kensington mattress right here in the UK, in our Yorkshire base, and we do it by hand, and with love! Every mattress is made to order, so your mattress is made just for you. 
Also, as we are based in the UK, there's less travel time; and as it is made to order, your mattress hasn't been lying around in a dusty warehouse for some time!
All of our Kensington mattresses offer fantastic quality and comfort, but the more premium products feature a significant number of springs, for greater comfort, and high-quality fabrics for the finest finish. This includes locally sourced Yorkshire wool, showcasing our love and support for the local community.
What Kensington mattresses are on offer?


We have four options to choose from in the Kensington Mattress collection.
Kensington 1000 Mattress With 1000 Pocket Springs, with prices starting from £216.00
Kensington 2000 Mattress With 2000 Pocket Springs, with prices starting from £328.32
Kensington 3000 Mattress With 3000 Pocket Springs, with prices starting from £423.36
Kensington 6000 Mattress With 6000 Pocket Springs, with prices starting from £501.12
The 1000 and 2000 feature eight air vents, and a 27 cm mattress, ensuring your body is supported in all the right places. 
Both the more premium 3000 and 6000 feature a large 30cm deep mattress while the 6000 mattress features 16 air vents, are classed as extra firm mattresses, excellent for posture alignment, easing back pain, aiding circulation and delivering exceptional comfort night after night.
All of our Kensington mattresses are available in the following sizes:
3ft Single
4ft Small Double
4ft6 Double
5ft King Size
6ft Super King
Every Kensington mattress we offer comes with a three-year warranty, all have been handcrafted in the UK, and all come with free UK delivery in five to ten working days.
When you desire the best night's sleep, the Kensington Mattress Collection has everything you need, and more. At Magna Beds, we know and care about bedding, and delivering you the best night's sleep. We only offer four mattresses, because we know one of these is perfect for you. Contact Magna Beds today, and we'll make sure you buy the mattress of your dreams.