Magna Beds, a name synonymous with luxury and craftsmanship, is proud to unveil its latest masterpiece: our Premium Range of Beds. This new collection is not just a testament to our commitment to quality but also a reflection of our deep understanding of contemporary design and unparalleled craftsmanship.
Why the Premium Range?
In the world of luxury bedding, there's always a quest for the next level of excellence. The Premium Range is our response to this ever-evolving journey towards perfection. It's not merely a collection; it's a culmination of our passion, expertise, and dedication to our craft.
The Premium Range is our ode to the modern connoisseur of luxury. We recognise that the tastes and preferences of our clientele are not static; they evolve, seeking newer expressions of luxury and comfort. This range is our way of staying ahead of the curve, of pre-empting what the discerning customer desires, and delivering it with unmatched finesse.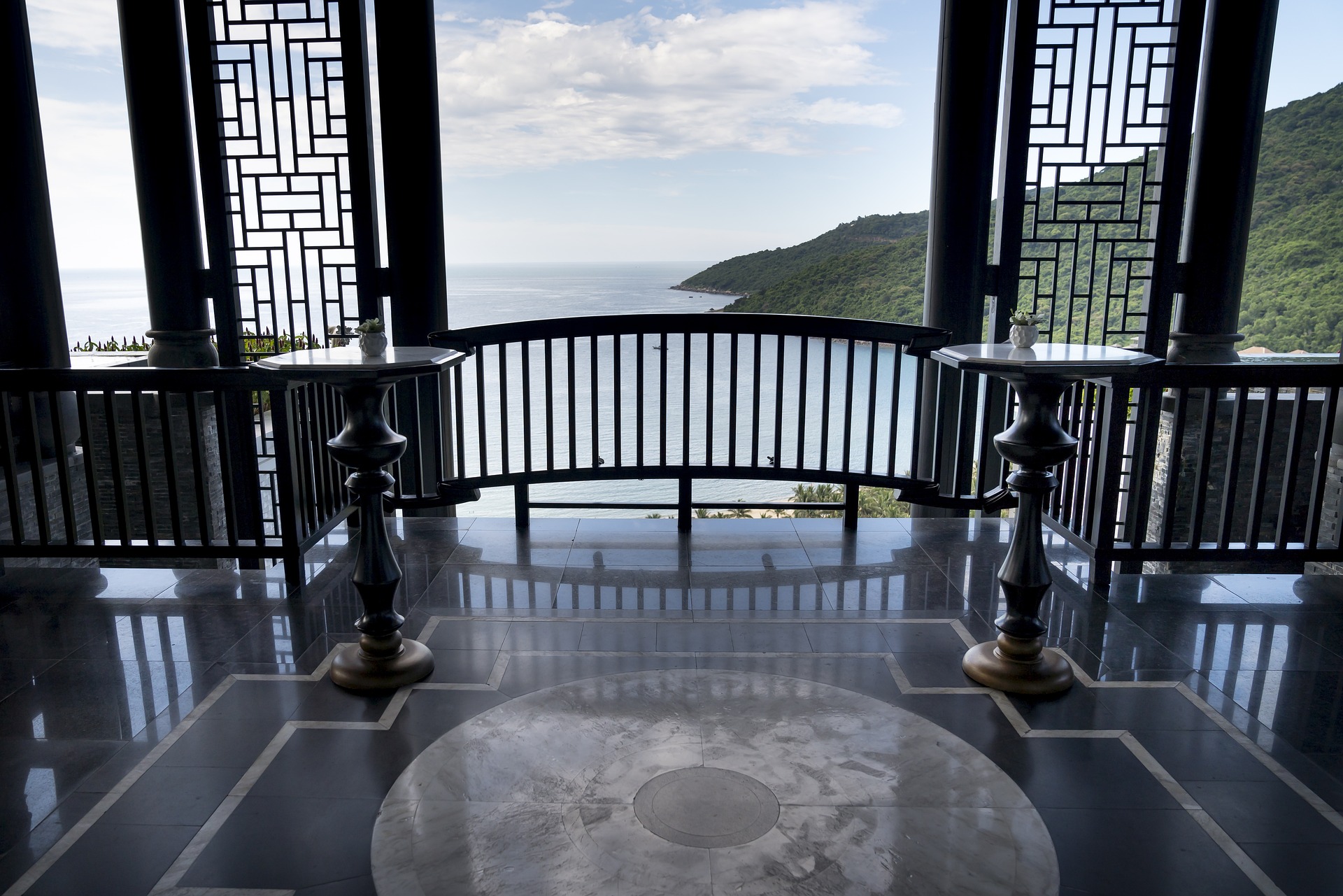 While our standard luxury beds have set industry standards and have been celebrated for their unparalleled comfort and design, the Premium Range is a leap ahead. It's where opulence meets artistry. Every bed in this collection is more than just a piece of furniture; it's a statement of style, a reflection of one's personality, and a testament to Magna Beds' commitment to pushing boundaries.
Each bed in the Premium Range is meticulously crafted, bearing testimony to our attention to detail. From the choice of the finest materials to the intricate designs that adorn them, every aspect has been thought through. The unique styles are not just about aesthetics; they are about creating an experience, an ambiance that resonates with luxury.
In essence, the Premium Range is not just about sleeping; it's about dreaming with your eyes open. It's about experiencing luxury in its purest form, every single night.
A Glimpse into the Premium Range
We believe the diversity of beauty, alongside the consistency of quality, makes our Premium Range ideal for buyers who want the best at home.
Marriott Upholstered Bed Frame is a testament to innovative design and craftsmanship. Its standout feature, the headboard, is not just a mere accessory but a defining element. Crafted with precision, it showcases a myriad of tones and shades, allowing homeowners to choose one that perfectly complements their room's aesthetics.


What truly sets it apart is the continuity of the headboard's design, which gracefully extends around the bed frame. This feature imparts a bold, cohesive look, making the bed a statement piece in any bedroom. For those who appreciate intricate details and a touch of opulence, this design is a must-explore.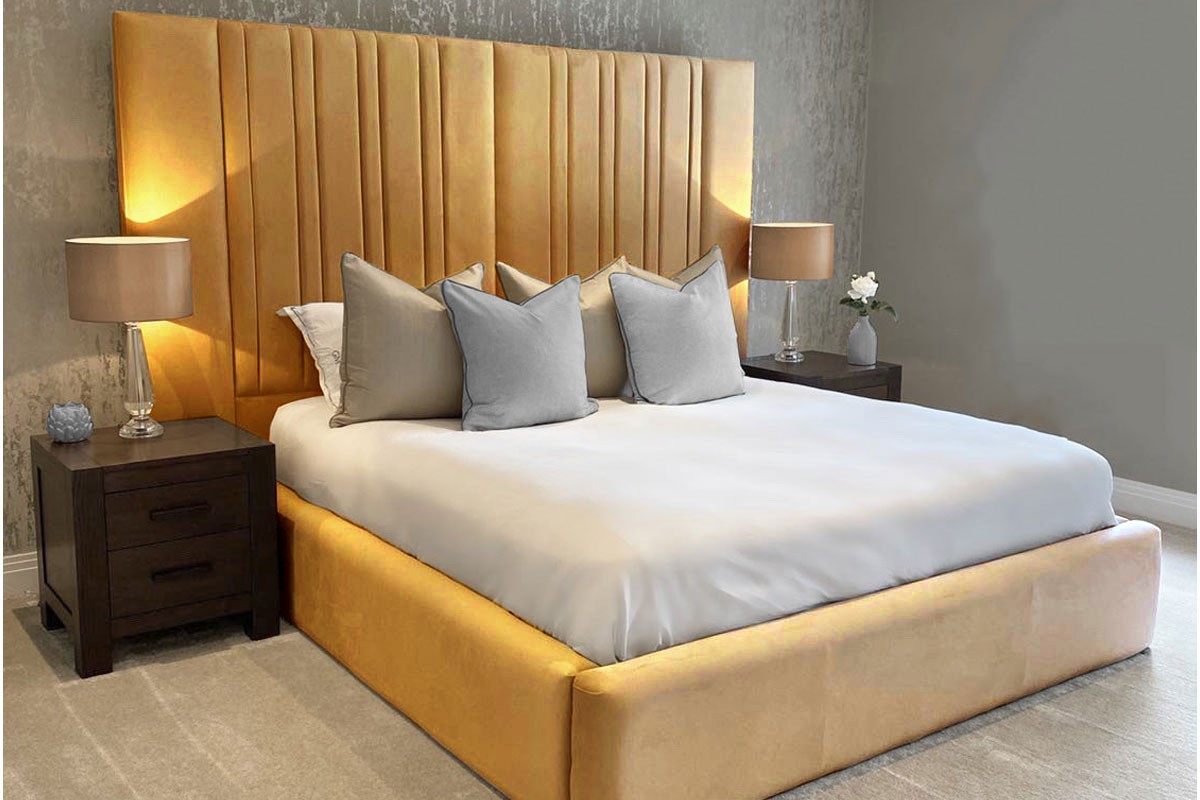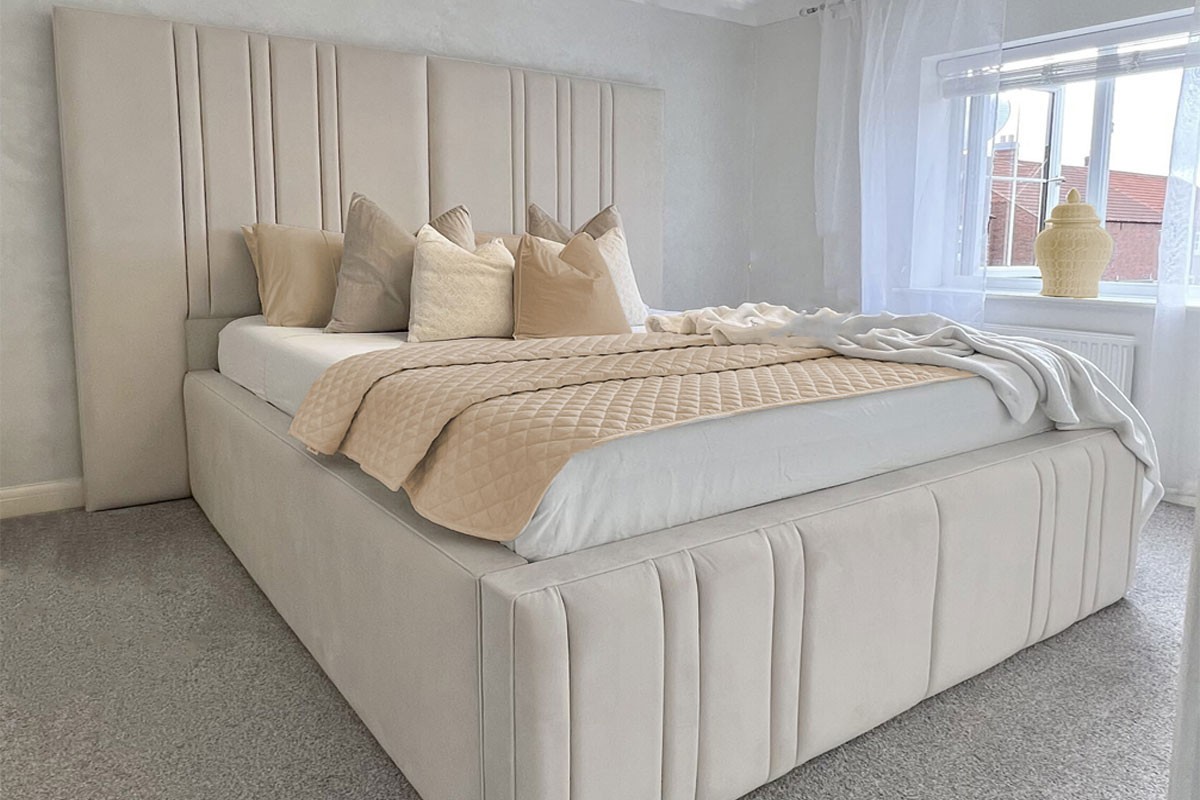 Marriott Lux Upholstered Bed Frame is a sibling to the Marriott Upholstered Bed Frame, and brings its own charm. The headboard, with its wrap-around design, envelopes the bed, creating a cocoon of luxury. This design element not only adds a layer of sophistication but ensures the bed becomes the undeniable focal point of any bedroom setting. The bold aesthetics of the Marriott Lux are balanced with subtle elegance, making it a favourite among modern design enthusiasts.
Atlantis Lux Upholstered Bed Frame: Elegance finds a new definition with the Atlantis Lux Upholstered Bed Frame. Its standout feature, the contrast piping, is available in a spectrum of colours, offering a touch of bespoke luxury.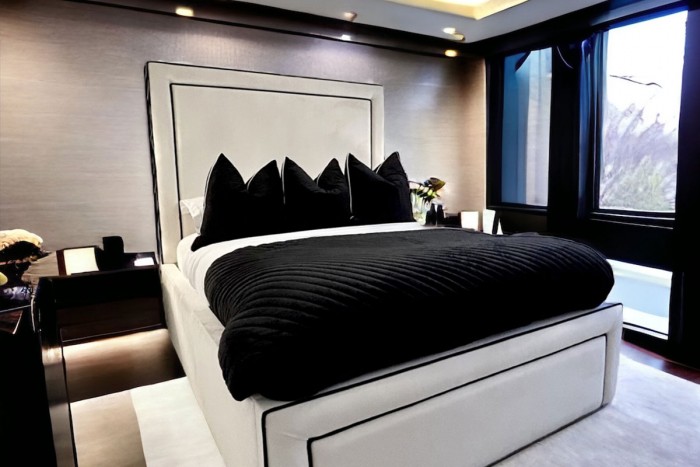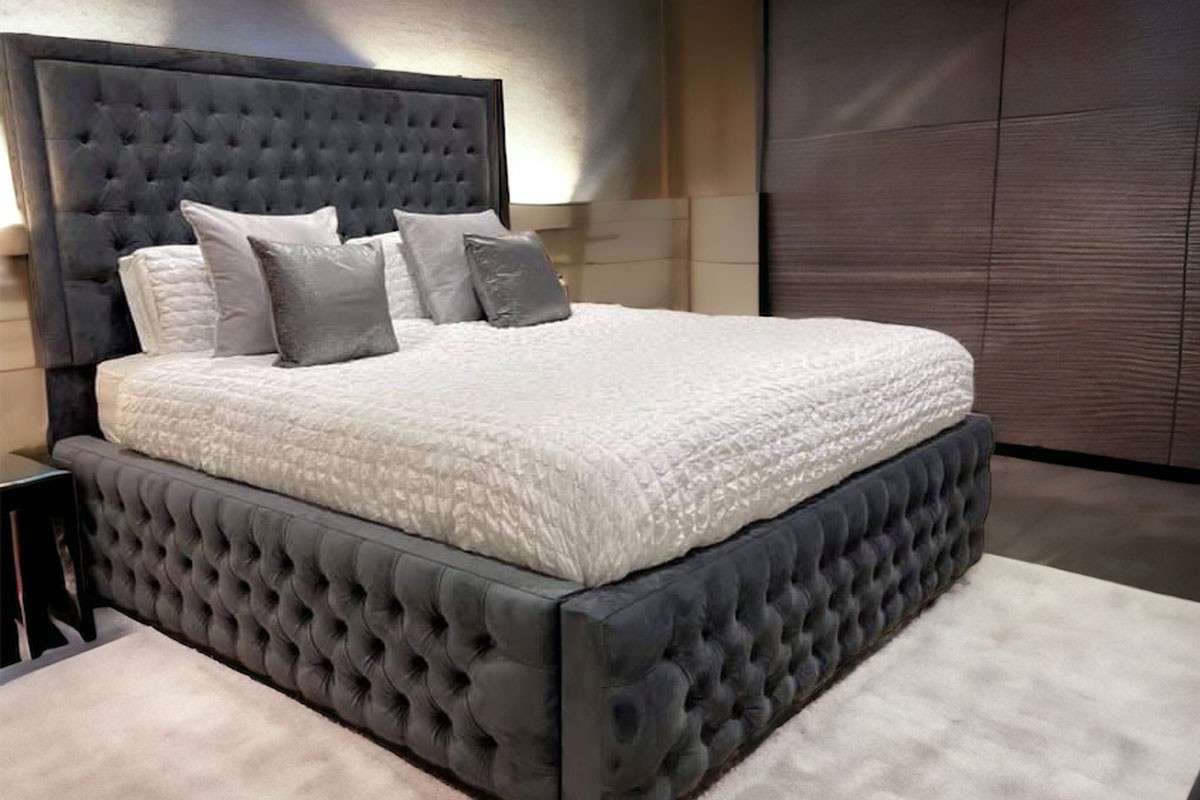 Hilton Chesterfield Upholstered Bed Frame: A nod to the timeless Chesterfield design, the Hilton Chesterfield bed frame seamlessly merges the old-world charm with contemporary aesthetics. The hand-finished button details, which adorn all sides of the frame, are a tribute to meticulous craftsmanship.

This bed is where tradition meets modernity, creating a piece that resonates with both vintage lovers and modernists alike.
Ritz Upholstered Bed Frame: The Ritz is where bold design meets unparalleled comfort. Its pronounced cushioned panels, combined with the meticulous edging around the bed and headboard, make it a standout in the realm of modern bed designs.

Every aspect of the Ritz Upholstered Bed screams luxury, from its plush feel to its avant-garde aesthetics. It's not just a bed; it's an experience waiting to be had.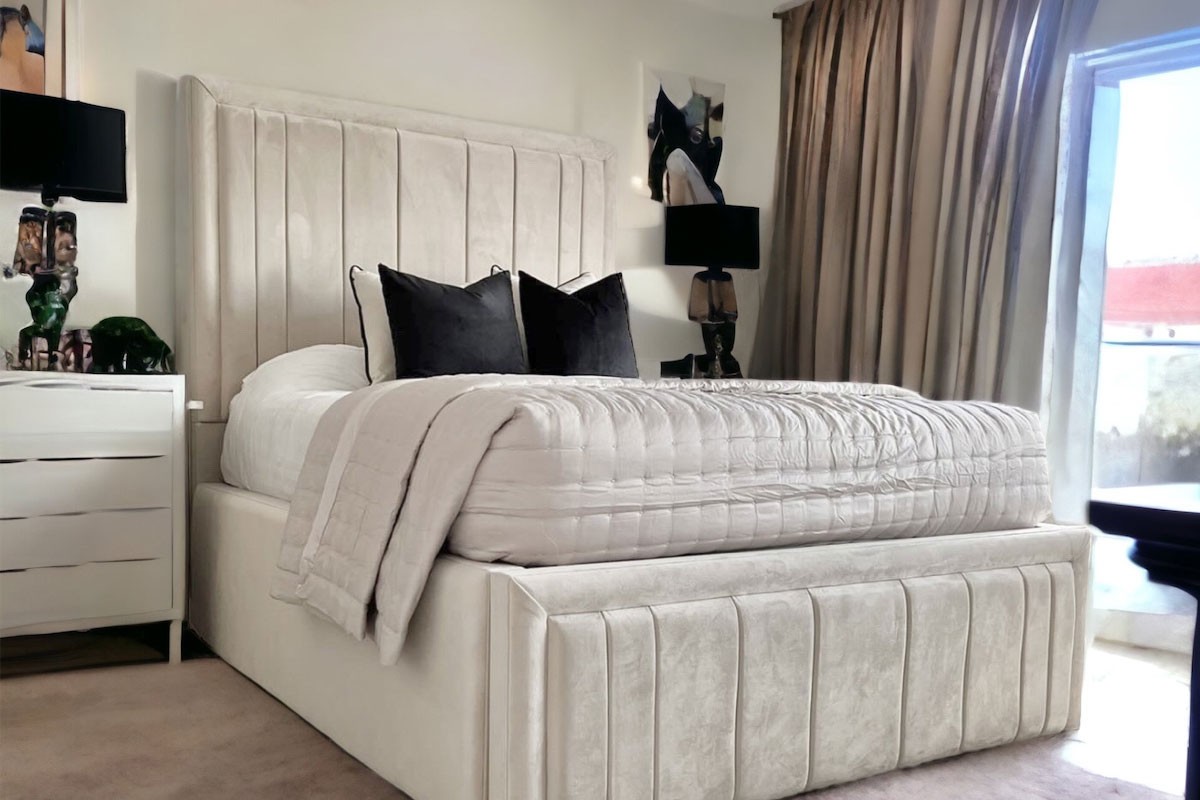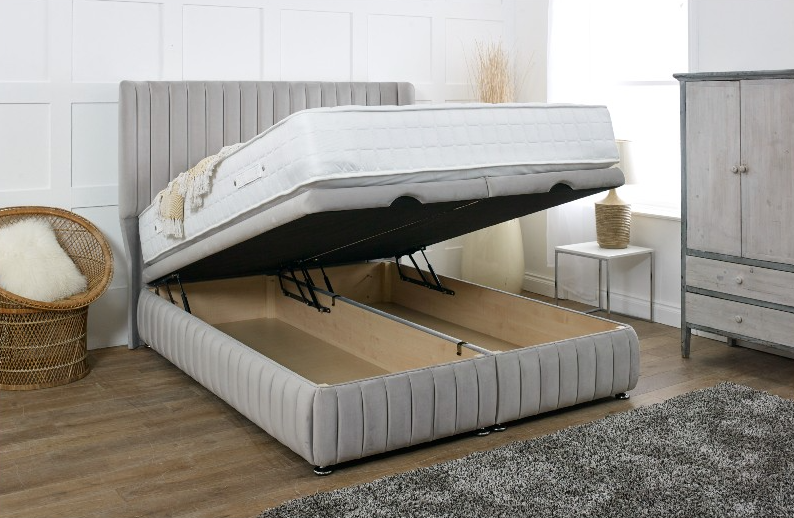 Amelia Linear Ottoman Divan and Headboard: Redefining the paradigms of modern luxury, the Amelia Linear Ottoman Divan is a masterpiece in design and functionality. The winged headboard, with its plush cushioning, offers a backdrop of opulence.

The upholstering, which extends around the sides, adds a touch of grandeur. But what truly sets the Amelia apart is its integrated storage, proving that style and functionality can coexist in harmony.
Each piece in Magna Beds' Premium Range is not just a bed; it's a journey into the world of luxury, craftsmanship, and unparalleled design.


Customisation at its Best
The Premium Range offers an unparalleled level of customisation, so you can tailor it to be perfectly matched to your taste. Whether it's the rich palette of colours that can be chosen to match or contrast with your bedroom decor, or the intricate detailing of piping and edging that adds a touch of elegance, every element can be handpicked to resonate with your aesthetic sensibilities. This meticulous attention to detail ensures that each bed is not just a piece of furniture but an extension of your personality.
We understand that luxury is not just about looks; it's about seamlessly blending form and function. That's why the Premium Range offers innovative storage solutions. From sleek divan drawers that provide discreet storage space to the ingenious lift-up ottomans that increase utility without compromising on style, every bed is designed keeping in mind the modern-day challenges of space and storage.
Our legacy in bed design is built on a foundation of innovation, quality, and an unwavering commitment to excellence. The launch of the Premium Range is a reaffirmation of this legacy. It's not just about setting new benchmarks in luxury and craftsmanship; it's about redefining them. Every bed in this collection is a confluence of our deep-rooted expertise, a keen understanding of contemporary design trends, and an undying passion to deliver the epitome of luxury.
In the world of bedding, the Premium Range is not just a product; it's an experience. An experience that invites you to immerse yourself in a realm of luxury, to make a statement, to live the Magna Beds promise every day.