Headboards come in all sorts of shapes, styles and materials, but there is a specific type that stands out of the crowd: the winged Chesterfield headboard.
Let us discover together what winged headboards are, why they are a luxury hotel's favourite and how they could be such a great choice for your bedroom.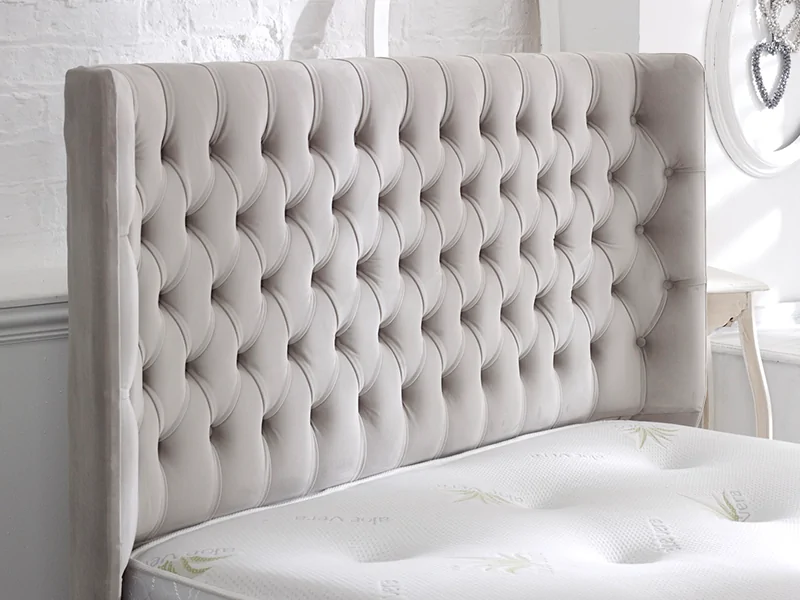 What is a winged Chesterfield headboard?
Winged headboards, often referred as wingback headboards as well, are a category of upholstered headboards featuring – literally – two "wings" on the left- and right-hand side of the headboard, wrapping around the bed.
These two winged elements may be attached to the main headboard, showing a clear 90% angle between each wing and the headboard, or be an integral part of the headboard.
This is mostly the case of upholstered headboards, in particular a winged Chesterfield headboard featuring the recognisable diamond pattern throughout would make its own surface look like it is curving around the bed – hence the naming curved headboard you may encounter sometimes as an alternative to winged headboard.


Why choose a winged Chesterfield headboard
The benefit of having a winged Chesterfield headboard is twofold. On one hand, the Chesterfield element provides you with the perfect combination of elegance and comfort. On the other hand, having a winged headboard will bring both the class and the cosiness of your Chesterfield to the next level.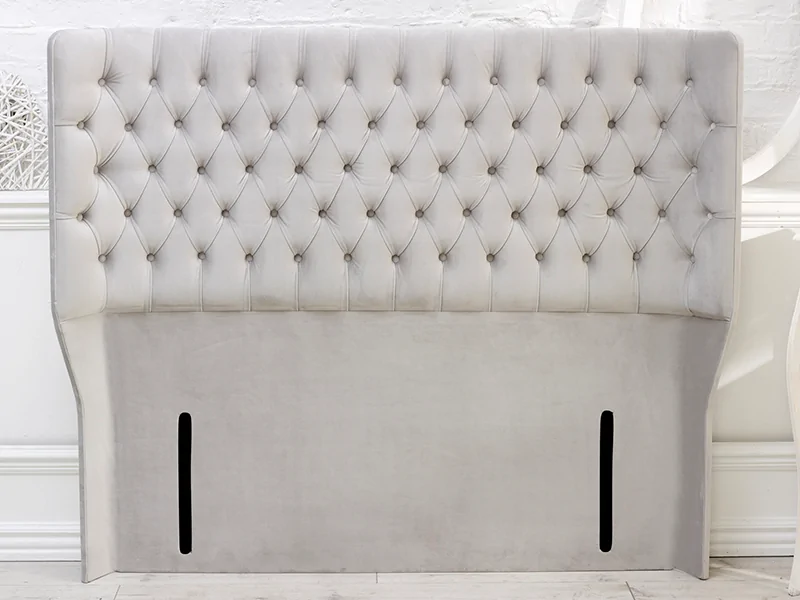 A winged headboard will give your bed an even more sophisticated look 'n' feel and extra comfort, along with additional lateral support to keep your pillows – and on occasions your head – from falling on the floor.
These are the reasons why curved/winged Chesterfield headboards are the main choice of many luxury bedroom hotels around the world, and a recurring presence on several 'most luxurious beds in the World' lists. Did you know that the Savoy No 1 itself, often referred as "the world's most luxurious sleeping system", features a winged Chesterfield headboard?

Get your own winged headboard
The good news is you don't have to spend a fortune turn your bedroom into a 5-star hotel room thanks to a winged Chesterfield headboard.
Discover Magna Beds's Harewood floor standing headboard, giving you the chance to craft your own winged headboard by choosing from a variety of sizes, fabrics types, colours and buttons! This is a floor standing headboard, fitting any standard UK size divans.