Rest your head on a quality Furniture Bazaar winged headboard
One way of giving your bedroom a more stylish and sophisticated look and feel is by using a floor standing winged headboard.
Here at Magna Beds we have seven different winged headboards in a variety of colours and fabrics.
Whitworth Double Winged Upholstered Floor Standing Headboard

Our stunning winged headboard with a curved top is bound to bring a cosy feel to any bedroom, the wings create a cosy, intimate feel for those dark nights when you want to snuggle in bed with your hot chocolate.  The added piping detail and at 137cm high, this headboard gives an added luxury feel to your bedroom.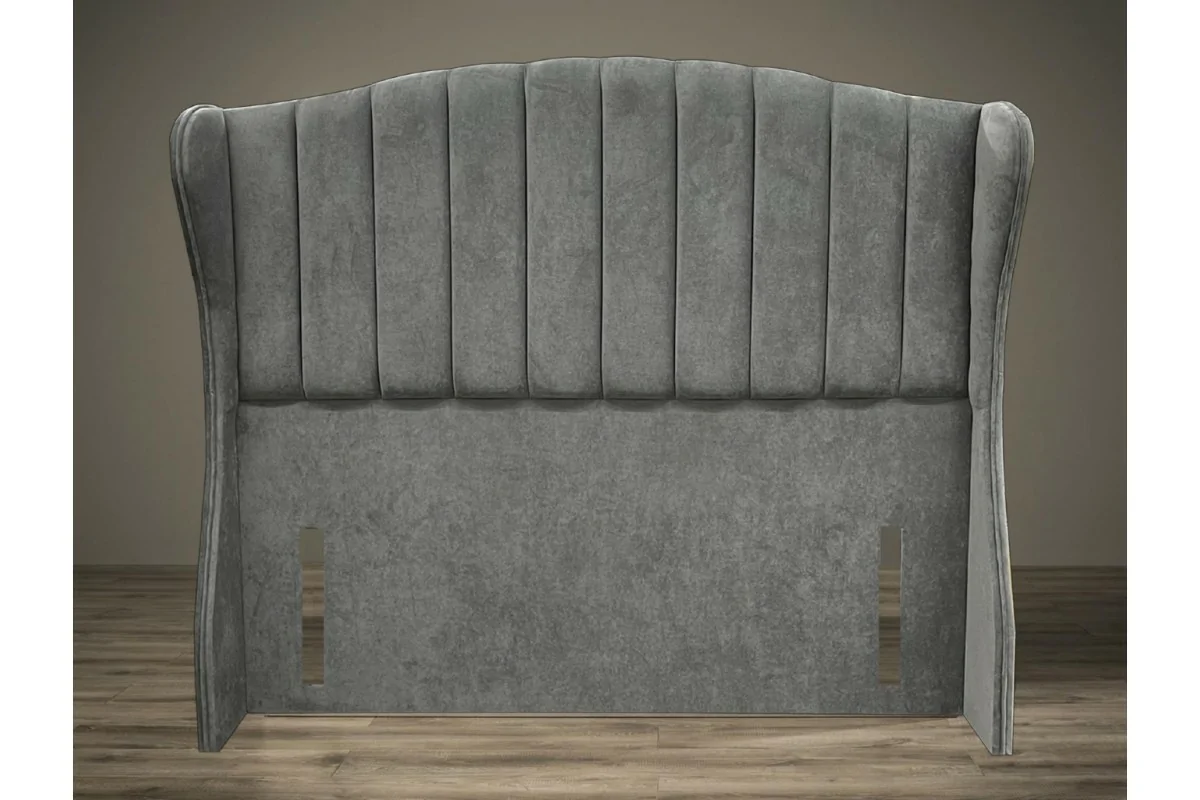 Harewood Linear Curved Winged Panel Upholstered Floor Standing Headboard

Create a hotel style look for your bedroom with our Harewood Linear Curved Wing Panel Upholstered Floor Standing Headboard. Simply add our fabulous Harewood Headboard to a divan or base and step into a whole new world of luxury.  As with all our headboards, this is handmade to the highest standards. This headboard certainly delivers the WOW factor!
Digley Winged Floor Standing Headboard
Minimalist doesn't need to mean plain. Our Digley Winged Headboard provides an extremely classy look to your bedroom. With clean lines and slight buttoning this floor standing headboard is the statement piece you have been looking for.
Savoy Winged Floor Standing Headboard

This tall, floor standing headboard is one of our most popular winged headboards giving the feeling of luxury to all bedrooms. With a dramatic design and cosy wings this will jazz up even the most dowdy of bedrooms.
Harewood Curved Winged Chesterfield Upholstered Floor Standing Headboard

By adding this headboard to any divan or bed base you can enjoy the look of the Ritz in your very own bedroom. Again, this headboard is the height of luxury in the headboard world.   This headboard offers an extravagant cushioned support.
Hampton Winged Floor Standing Headboard

This headboard is bound to impress anyone, with deep buttoning and huge wings your bed will look the most inviting it ever has. Team this headboard with some large pillows and snuggle in your fluffy duvet for the best nights sleep you've ever had.
Chelsea Winged Floor Standing Headboard

This curved top, floor standing winged headboard has lavish deep buttoning and very distinctive curved wing which make your bedroom look the most opulent it ever has. Here you can have high-class luxury all without breaking the bank.
All headboards are available in a variety of fabrics and colours, (not to mention five different sizes), so we just know there is something suitable for all tastes.