Madison Upholstered Bed Frame
The Madison bed frame is resplendent in an art deco light blue plush velvet. The tall headrest and soft fabric create a space you'll love every night.
The Madison bed frame will leave you feeling like you are floating in the air. The light blue plush velvet fabric headrest and bed frame offer any bedroom a glorious look and feel. With an art deco style that lends itself well to any space, this is a bed frame that stands out for all the right reasons.
You will be drawn to the art deco head rest, which stands 158cm tall. The base of the frame is well supported, with chrome feet. The foot ends are 31cm tall. There is flexibility in how you want these feet to look. You can opt for plush velvet, which compliments the bed frame, or Naples velvet, Linen, chenille, or crushed velvet.
With a handmade finish offering flexibility in fabrics and colours, you can genuinely have the bed frame of your dreams. When it comes to kitting out your special room in a bespoke style, you will love how soft this headrest and frame feels, while you will adore how it looks.
You'll be delighted to know the flexibility of the Madison bed frame is also found in its size. You can opt for a 4'0 small double, a 4'6 double or even a 5'0 king-size bed frame. Whatever size of bed frame you want, our bespoke service will help you finish your bedroom to your heart's desire.
A notable feature of the Madison headrest are the deep buttons, which immediately catch your eye. This additional flourish ensures there is a lot for you to like about this hand-upholstered bed frame.
It is easy to see why so many people fall in love with the headrest's light blue plush velvet finish. This goes particularly well with a range of wall colours, allowing you the complete creative freedom to create your ideal home style. The Madison bed frame is perfect for children or adults, and again, the bespoke handmade nature of the bed frame allows you to customise it to best suit your needs.
You'll look forward to bedtime every day when you have a handmade Madison bed frame.
* Bed frame only. Other fabrics and colours are available please call or email for more information.
Looking for a little inspiration? Why not read through our blog section for tips and advice.
Order free sample Swatches
Dimensions In cm:
Size

Height

(C)

Width

(A)

Length

(B)

Footboard
Height (D)

Single
158
97
214
31
Small Double
158
128
214
31
Double
158
144
214
31
King
158
159
222
31
Super King
158
189
222
31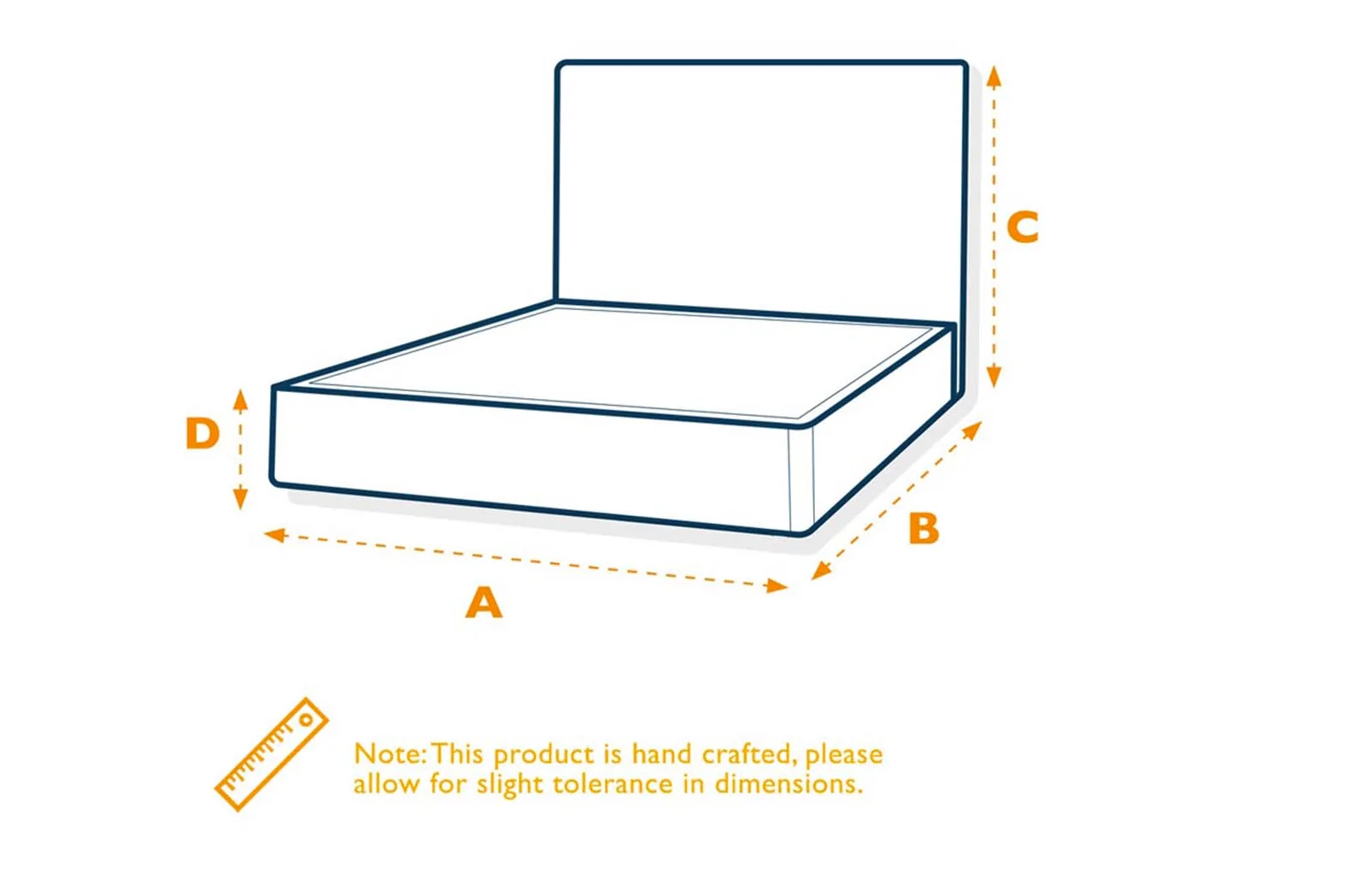 Quality really matters to us at Magnabeds. A new bed is one of the major home buys in a persons life, and this is why we feel it more important to provide a long lasting, quality product for you to enjoy for years to come. Being the manufacturer we can offer some great pricing compared to other online retailers and especially stores on the high street.
Discover more by browsing through our website. Questions? Please feel free to contact us where we are more than happy to discuss your needs.